Facts & Origin
The Xoloitzcuintle is a breed of dog that is very rarely found in this country. Also in dog forums these dogs are represented only very rarely and the Xoloitzcuintle is therefore truly special. This dog with the almost unpronounceable name is a Mexican hairless dog. Often Xoloitzcuintle is abbreviated simply as Xolo and the breed is often affectionately referred to as the naked one. The Xoloitzcuintle breed is recognised by the FCI and is listed in the FCI Group 5. Here the Xolos are listed as a Spitz breed and original breeds in section 6. It carries the standard number 234.
What is the origin of the Xoloitzcuintle?
The Xolos are representatives of a very old dog breed. The Xoloitzcuintles has already existed for more than 3,500 years and they go back a long time to the time of the Aztecs. In Mexico, it was considered the earthly representative of the god Xolotl, who was the god of the underworld, lightning and the evening star. The naked dogs were highly revered, as it was believed that these dogs would accompany the deceased souls to their eternal resting places.
The naked dogs spread outside of Mexico to America much later. The first illustrations of the prominent naked dogs exists from 1700 before Christ. Clay jugs were found on which these striking dogs are portrayed. The Xoloitzcuintle crossed with European naked dogs is also regarded as an ancestor of the popular Chinese naked dogs.
Banner: Shutterstock / Seregraff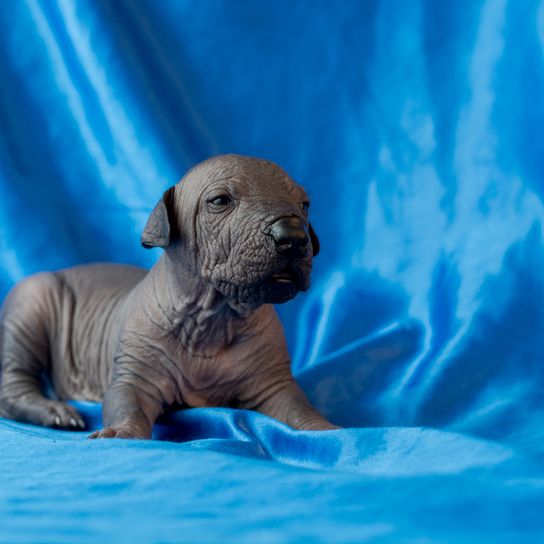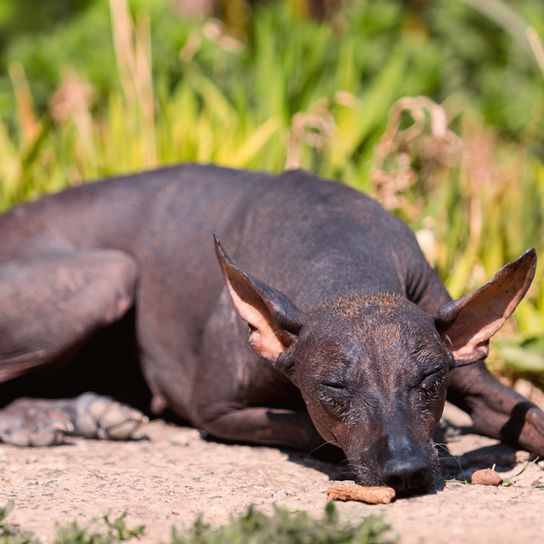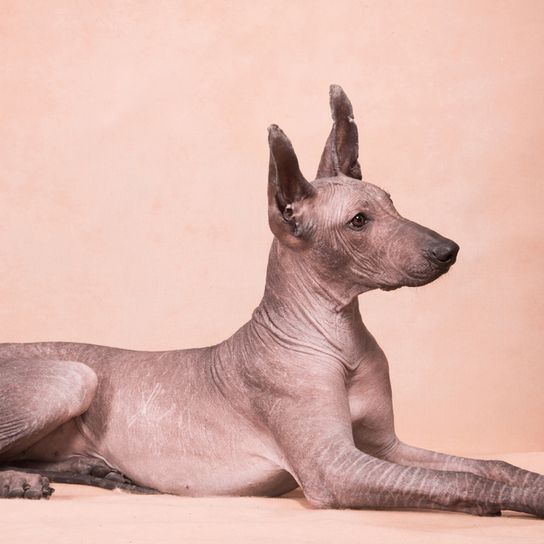 | | |
| --- | --- |
| Alternate Name | Mexican hairless dog, Xolo |
| Origin | Mexico |
| Life expectancy | 12 - 15 years |
| Care requirements | low-maintenance |
| | |
| --- | --- |
| Activity level | average |
| FCI group | Primitive type |
| AKC group | non-sporting group |
| KC group | utility group |
Attitude, character and temperament of the breed
What are typical characteristics of the Xoloitzcuintle?
The Xoloitzcuintle is:
quiet
dignified
sensitive
This dog breed is also considered to be very adaptable and intelligent. The naked dogs are very friendly and affectionate family dogs, but they are always a bit sceptical towards strangers at the beginning. These dogs are also good watchdogs and strike as soon as something unusual happens in their surroundings.
The Xoloitzcuintle gets along well with other dogs and animals, provided it has been properly socialised, of course. Xoloitzcuintles can also be kept in city apartments without a problem. The naked dogs are very easy to lead and are therefore also very suitable for beginners. If you would like to buy a Xoloitzcuintle, then you should be aware that these four-legged friends are very affectionate and would like to be taken along everywhere you go.
What are typical diseases of Xolos?
With Xolos you always have to make sure that they drink enough. The naked dogs sweat from their paws and therefore only pant rarely if not at all. Therefore you should always pay attention that your pet drinks enough water on hot days and does not get a heat stroke.
The skin is at the mercy of nature when exposed to sunlight. These dogs quickly get sunburned. Therefore you have to protect the dogs with sun cream and a t-shirt. But ticks and co. have hardly any chance to hide because of the smooth skin. Diseases that are transmitted by parasites are therefore rare.
Should the dogs tear your skin on branches and thorns, it should always be treated immediately to prevent it from becoming infected.
What should be considered in regards to Mexican hairless dog breeding?
Only certified breeders are allowed to breed dogs. They should also deal with genetics and always have their parent animals examined by a veterinarian for hereditary diseases before mating. Only perfectly healthy animals may be mated. Also the bitch should always be bigger than the male dog. If you want to buy a Xolo, you should always trust in a responsible breeder.
If you want to get a Xoloitzcuintle puppy, you can look forward to a four-legged friend that is visually and character-wise completely different from other dogs.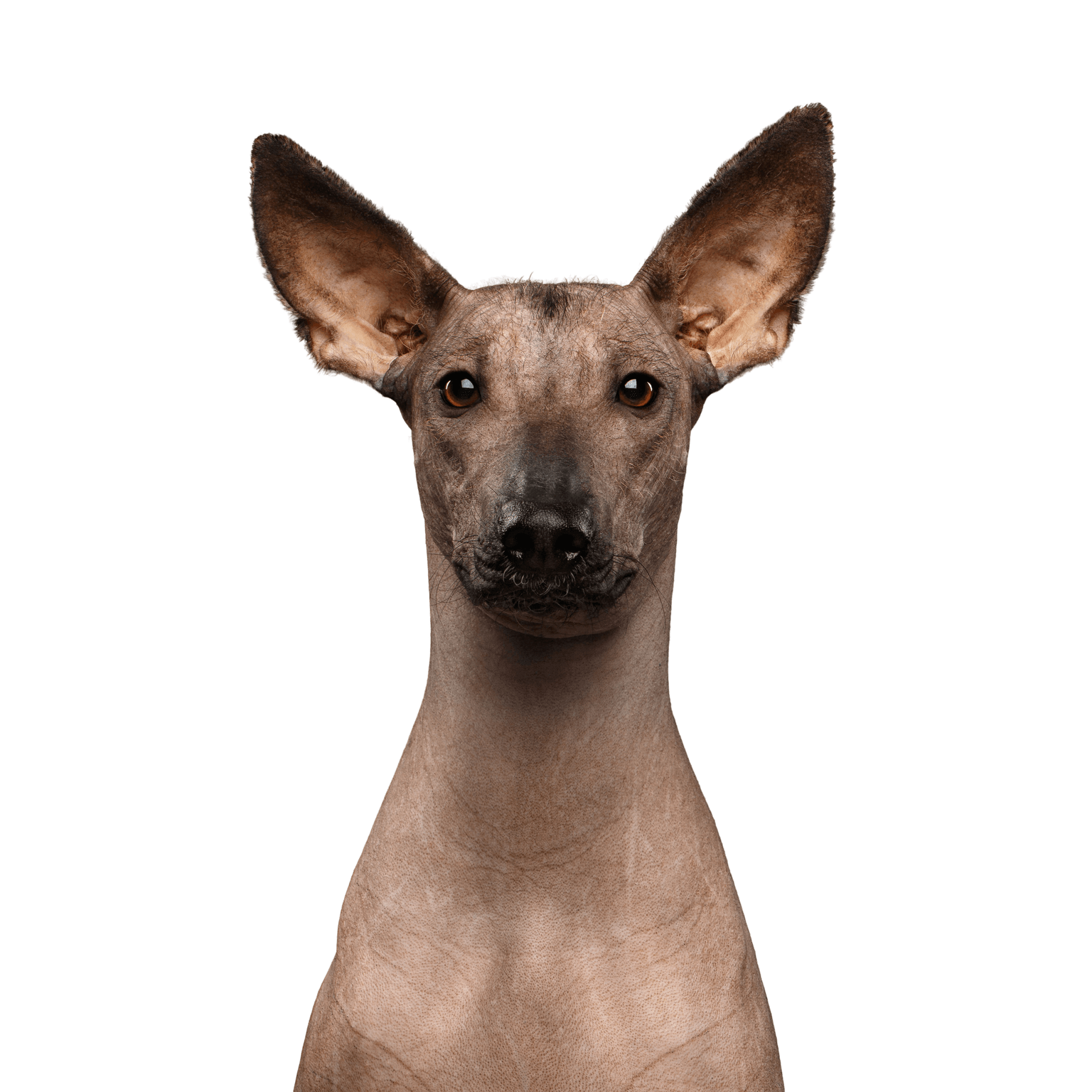 What are the breed characteristics of the Xoloitzcuintle?
The skin of the Xoloitzcuintles is smooth and warm. Although it is very sensitive and must be well protected against sun and cold, it is also relatively robust. The Xoloitzcuintle can also have some short, thick and bristly hair.
Appearance and coat of the Xoloitzcuintle
The skin must be soft and smooth and the body well proportioned. The chest is broad and the tail long. This is carried bent over the body. They mostly only have hair on the paws and also on the tip of the tail. However, the Xolo never has long hair as standard, but always only rough bristles.
Mostly the Xolo is monochrome and dark. It can have the colours black, black-grey, slate grey, dark grey, red, liver, bronze and golden yellow. Sometimes the naked dogs also show spots.
What is the average size of a Xolo?
The Xolo comes in three different sizes. The miniature naked dogs reach a withers height of 25 cm to 35 cm. The so-called medium-sized dogs are between 35 cm and 45 cm tall and the variety Standard is fixed at 45 cm to 55 cm. However, dogs with a withers height of 60 cm are also present at shows, if they are otherwise particularly beautiful.
How much does a Xoloitzcuintle weigh?
The weight of a Mexican naked dog can be between 4 kg and 20 kg. The weight must of course be in proportion to its body size. In general, however, the Xolos are very slender dogs.
What is the life expectancy of a Mexican hairless dog?
Xolos can live to about 12 to 15 years of age if kept well and fed appropriately. There are also Mexican hairless dogs that can reach a much older age. If you are planning on buying a Xolo, you should therefore be aware of the fact that you are taking on a great responsibility for a living being that depends on you for a very long time.
| | |
| --- | --- |
| Size ♀ | 45 - 55 cm |
| Weight ♀ | 4 - 25 kg |
| Size ♂ | 45 - 55 cm |
| Weight ♂ | 4 - 25 kg |
| Suitable For | Beginner, Children |
Colors