Medium size dogs
Medium dogs are a popular choice for many pet lovers. These dogs usually have a size between 25 and 40 centimeters, making them larger than small dogs, but smaller than large dogs.
Why a medium-sized dog is just right for your family
One advantage of medium-sized dogs compared to small dogs is their sturdiness and resilience. These dogs tend to be larger and stronger than small dogs and can therefore handle greater physical demands. They are often able to go for longer walks and hikes without getting tired or injured. They are also better able to handle children and play without getting hurt quickly.
Another advantage medium sized dogs have over small dogs is their ability to act as guard dogs. Medium sized dogs often have natural protective behaviors and can bark loudly to scare off intruders. In contrast, small dogs are often not as loud and do not have the same physical presence to serve as effective guard dogs.
Medium-sized dogs also have a longer lifespan than small dogs. Generally, medium-sized dogs live between 10 and 14 years, while small dogs often only live between 12 and 16 years. This is likely because smaller dogs are more prone to certain health problems, such as dental issues and constipation.
However, there are also some disadvantages of medium-sized dogs compared to small dogs. One of these disadvantages is that medium-sized dogs often require more space and exercise than small dogs. This can be a problem if you live in an apartment or small house and don't have much room for a dog. Also, a medium sized dog can be more difficult to transport than a small dog.
Another disadvantage of medium sized dogs over small dogs is that they are often more expensive to buy and maintain. This is because larger dogs require more food and can also incur higher veterinary costs. Grooming the coat and treating injuries can also be more difficult due to the dog's size and weight.
Medium sized dogs with photos
Thus, it can be said that medium-sized dogs have some advantages over small dogs, such as their robustness and resilience, their ability to act as guard dogs and their longer lifespan. However, they also have some disadvantages, such as their higher acquisition and maintenance costs and their higher space requirements. Ultimately, however, the choice of dog depends on the individual needs and preferences of the owner. We will show you medium-sized dogs that will fit perfectly into your life.
Brittany spaniel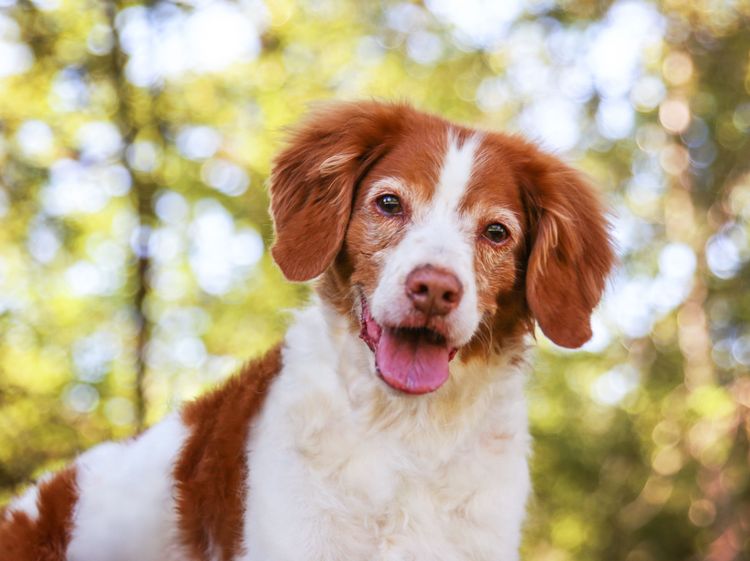 Shutterstock / Annette Shaff
The Épagneul Breton, also known as the Brittany Spaniel, is a medium-sized hunting dog originating in Brittany, France. It is the smallest of the spaniel breeds, but despite its compact size, it is an energetic and agile working dog that was originally bred for bird hunting.
With a shoulder height usually between 44 and 51 cm and a weight of 13.5 to 18 kg, the Épagneul Breton is a robust yet graceful dog. Its coat can be wavy or smooth and displays a variety of color combinations, including orange and white, black and white, or tri-colored.
The medium size of the Épagneul Breton makes it a versatile hunting companion, well suited for a variety of hunting activities, from field work to retrieving from water. In addition, his size also fits well with modern lifestyles, making him a popular family dog. Despite his athletic nature, he is also known for his loving and affectionate nature, making him a great companion for families.
Spanish water dog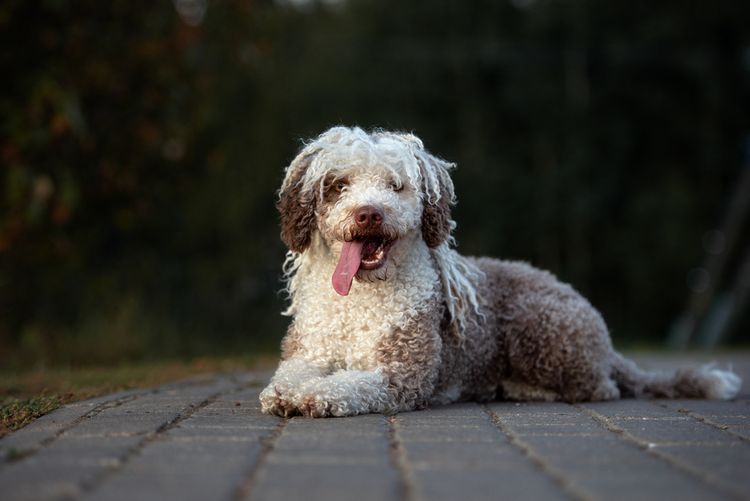 Depositphotos / ots-photo
The Spanish Water Dog, called "Perro de Agua Español" in its native country, is a medium-sized dog with a shoulder height of 40 to 50 cm and a weight of 14 to 22 kg. Its curly, water-repellent coat, often trimmed in a "lion" cut, is characteristic. Originally used as a fishing and herding dog, he is intelligent, alert and easily trained. With his family he is affectionate and loving, but can be reserved with strangers. As an active working dog, he needs plenty of exercise and loves water activities. His coat does not shed, but needs to be trimmed regularly. Overall, the Spanish Water Dog is ideal for active families and excels in versatility and loyalty.
Bull Terrier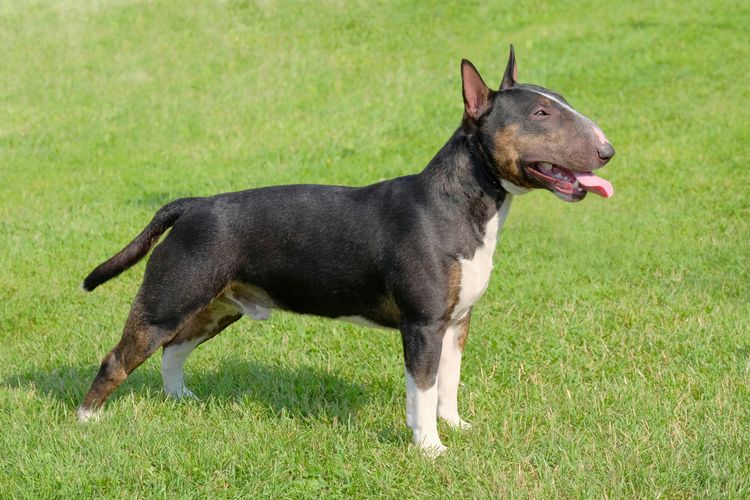 Depositphotos / CaptureLight
The Bull Terrier, originally bred in England, is distinctive for its egg-shaped head and close-set eyes. This medium-sized, muscular breed was once used for dog fighting, but today it is a loving and loyal family dog with proper socialization and training. Despite their rugged appearance, bull terriers are often playful and need regular exercise as well as mental stimulation. Early socialization and consistent training are critical for these dogs with strong personalities. Properly kept, they are compatible with children and other pets and become loyal companions.
Kooikerhondje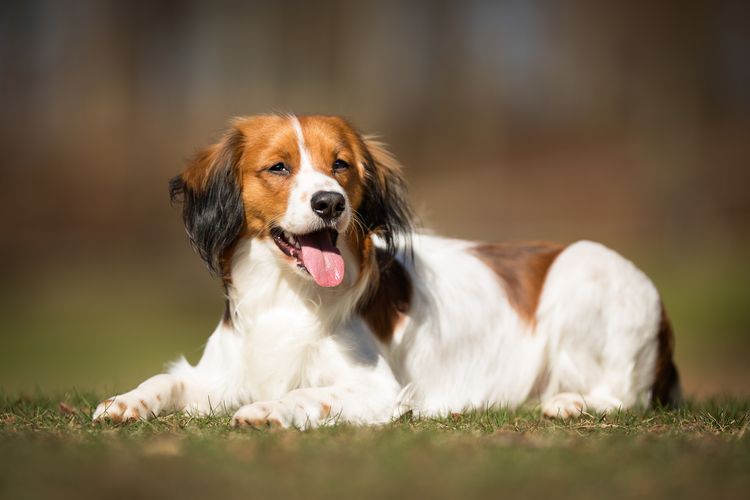 Depositphotos / Bigandt
The Kooikerhondje is a small to medium sized dog breed from the Netherlands, known for its distinctive two-tone coat and bushy, black and white "ear tufts". It was originally used to lure ducks into nets, hence the name, which means "little decoy dog." It is an active, intelligent and good-natured dog that is great for families. Its friendly and lively nature makes it a popular companion. At the same time, it is alert, which makes it a good watchdog. The Kooikerhondje needs regular exercise and mental stimulation. With his lively, yet good-natured personality and striking appearance, he often attracts attention and is a loyal companion to those who offer him a loving home.
Victoria Bulldog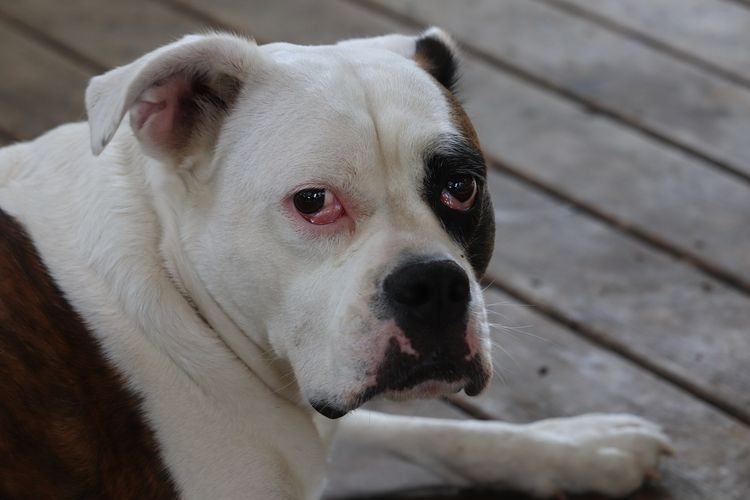 Depositphotos / slowmotiongli
The Victorian Bulldog is a reconstructed dog breed developed to match the appearance and temperament of the 19th century Bulldog. Unlike the modern English Bulldog, the Victorian Bulldog is more robust and less subject to health problems. He has a broad chest, strong legs, and a short, smooth coat that can come in a variety of colors. His expression is determined, but friendly. In character, he is calm, affectionate and very family oriented. Despite its compact size, it is agile and requires regular exercise. This breed has been specifically bred to minimize respiratory and other health problems that occur in many modern Bulldogs. Overall, the Victorian Bulldog is a loving, loyal companion that faces fewer health challenges than many contemporary Bulldog breeds.
Welsh Terrier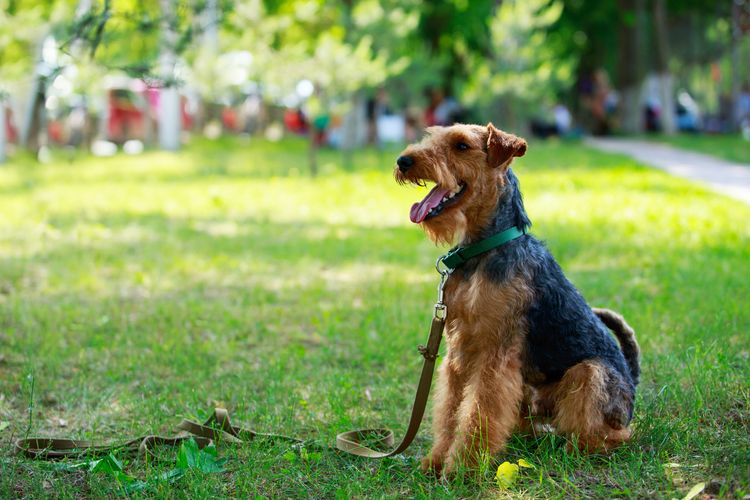 Depositphotos / DevidDO
The Welsh Terrier, originally from Wales, is a medium-sized, lively dog with a wiry coat that is typically black and tan. A true terrier, he is energetic, bold and independent. His wiry coat offers the advantage of little hair and requires regular grooming to remain in top condition. Historically, it was used to hunt foxes, otters and badgers. Today, with proper socialization, he is an excellent family dog that gets along well with both children and other pets. He is intelligent and eager to learn, which makes training easier, but consistent training is important to manage his stubbornness. For active families or individuals looking for a loyal and playful companion, the Welsh Terrier is an excellent choice.
Basset Hound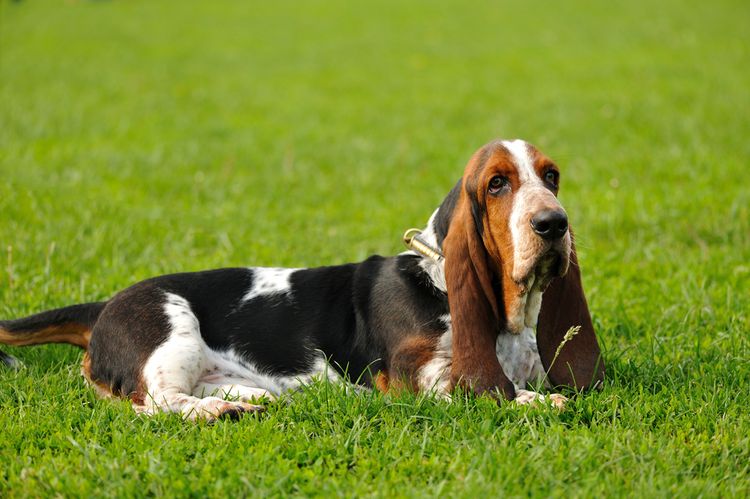 Depositphotos / art_man
The Basset Hound, often referred to simply as "Basset", is a French breed known for its striking long ears and short legs. With a melancholy expression and proud bearing, he has a distinctive appearance. He was originally bred for drag hunting, especially for hares. His keen sense of smell is only surpassed by the bloodhound. Despite his somewhat surly appearance, the Basset is a friendly and gentle dog that gets along well with children and other pets. He is calm but stubborn, which can sometimes make training challenging. His short coat is low maintenance, but he tends to drool. For families looking for a laid-back and loving companion, the Basset Hound is an excellent choice. He needs regular exercise to maintain a healthy weight, but tends to be lazy.
Chow Chow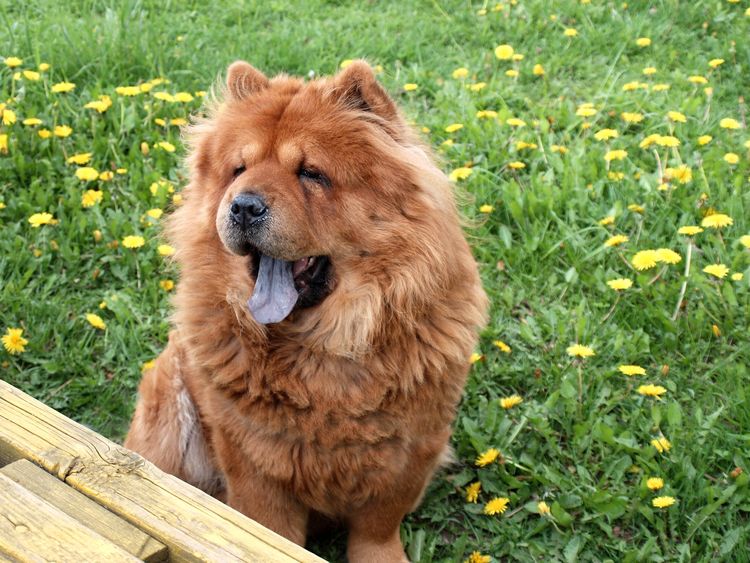 Depositphotos / Bokstaz
The Chow Chow, often called simply "Chow", is an impressive breed of dog from China, recognizable by its lion-like mane coat and blue tongue. Its dense, plush coat can come in a variety of colors, with red and cream being particularly popular. Chow Chows are calm, independent, and often reserved dogs. They can be territorial and need consistent training from puppyhood. Despite their stoic nature, they are very loyal to their family. They are less playful than other breeds and prefer a dignified demeanor. Care of their thick coat is essential to avoid matting. Chow Chows are sensitive to heat and benefit from a cooler climate. Although they are not overly active, they require regular walks. With proper socialization and training, the Chow Chow is a majestic and loyal companion.
American Cocker Spaniel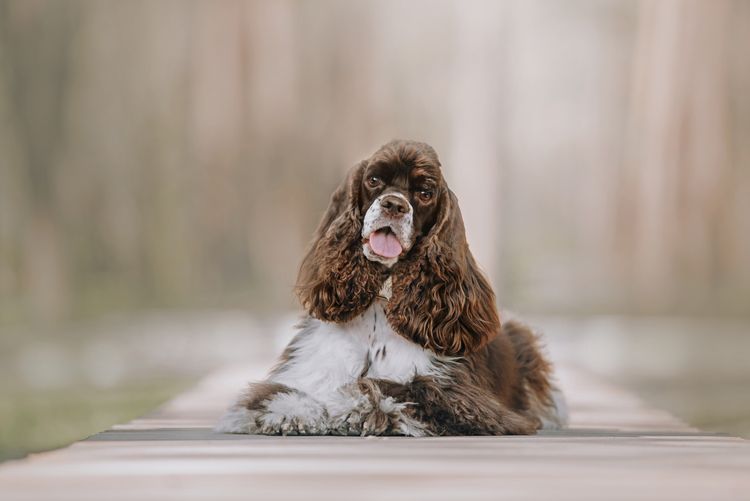 Depositphotos / Ksuksann
The American Cocker Spaniel is one of the most popular dog breeds in the United States and is known for its silky, wavy coat and large, expressive eyes. Originally bred as a hunting dog for tracking woodcock, it has evolved into a valued family dog. With a medium build, typically under 40 inches in shoulder height, he is compact, yet athletic. His friendly and lively temperament makes him an excellent companion, especially for families. He is intelligent and well suited for training, but also requires consistent training. Grooming his coat requires regular brushing and trimming to prevent matting. American Cocker Spaniels are sociable dogs that enjoy the company of their humans and are less likely to be left alone. With proper care, socialization and training, the American Cocker Spaniel is a loving and loyal family friend.
Other medium dog breeds
Among the many FCI-recognized dog breeds, there are a variety of medium-sized representatives that differ in both appearance and temperament. This size is often ideal for families, offering a balance between manageability and sturdiness. The Bearded Collie with its flowing coat and lively character, the Whippet as a gentle and quick greyhound or the Basenji dog, are just a few examples. Whether as a working dog, companion dog, or simply a loyal friend, medium breeds offer a wide range of characteristics that make them suitable for both the active outdoor enthusiast and the cozy couch enthusiast. It's worth taking a closer look at the different breeds to find the perfect companion for your lifestyle.