Dog ownership tips
02.02.2021
Cat grass for the dog? Is there such a thing? Dangerous?

by Sissi, Sissi has been a blogger since 2014, got on the dog in 2018. Since then, she struts her 10000 steps through the world every day with Loki. The Beagdor (Labrador-Beagle mix) is a therapy dog for children and also accompanies her to schools. Secretly she fancies a French Bulldog as a second dog.
Cat grass for dogs - beneficial food supplement.
Dogs eat grass for several reasons. It cleanses the stomach and provides fiber. In addition, plucking at blades of grass helps quite wonderfully against temporary boredom. Unfortunately, in winter, the supply of grass is almost non-existent. At such times, as a dog owner, you can grow your own cat grass indoors as a substitute and offer it to your dog.
Why do dogs and cats actually eat grass?
For all carnivores, grass is an indispensable supplement to the rest of their diet. It contains fiber, binds ingested toxins, and cancels out any nutritional deficiencies. But dogs don't just eat grass for nutrition. I'm sure you've observed it: If you're in conversation with other dog owners, your dear four-legged friends like to pass the time by plucking grass. Between spring and autumn, this is a fine distraction. But in winter? There the additional offer of the meadow is missing. You can easily bridge the lack of taste and content in the seasonal rest period.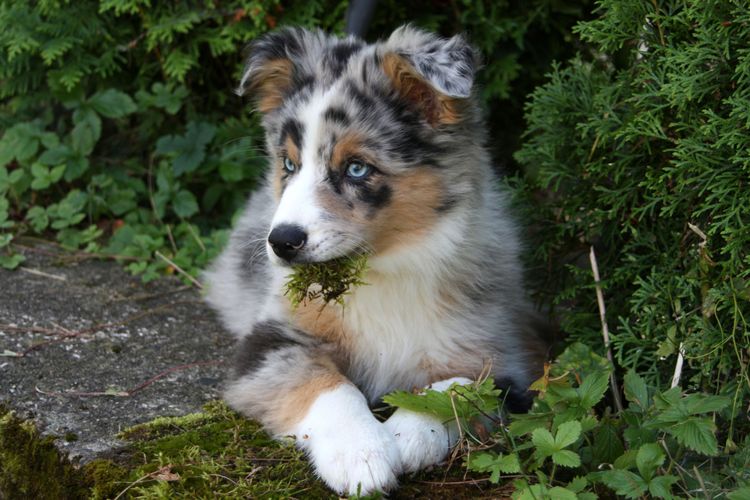 Is cat grass a sensible option for dogs too?
About the eating of grass in dogs, the science discusses for a long time. In general, however, cat grass as a winter alternative has long been confirmed as beneficial from practical experience with pets. The following reasons speak in favour of offering your dog the beneficial greenery at home in times when grass is scarce:
Grass is good if your dog suffers from a worm infestation, for example. The grass fibres wrap around the pests in the intestines and quickly help to eliminate them.
The ingredients in grass contain, among other things, valuable microorganisms. These are beneficial for digestion, especially with the rather one-sided meat-heavy diet of dogs.
Cat grass and regular grass contain an abundance of micro-nutrients. If your dog is overly interested in eating grass, he may be suffering from a nutrient deficiency. A few blades of grass even in the winter can make up for the deficiency.
Cat grass can be helpful if your dog has upset his stomach somewhere or ingested harmful foreign objects (for example, a label or similar paper). Your dog now eats so much grass until he can throw up. The fibrous stalks quickly transport the foreign body or accidentally ingested harmful substances out of the dog's body.
Grow cat grass for dogs in the apartment itself
Cat grass for dogs is easy to grow yourself in the apartment. To do this, put untreated garden soil in a flower pot. As a grass substitute for indoors Cyprus grass or cereals are best suited. Soak the seeds of the grasses in cold water for no more than two hours. Then place the swollen seeds about two centimetres into the soil in the flower pot. Now the cat grass or dog grass can grow in a bright location (but please without full sun) in peace. Keep the grass roots moist every day until they are ready to eat. However, you must avoid waterlogging. It would cause the homegrown cat grass to rot quickly. Once enough greens have sprouted, your dog will show you if it's ready for his taste preferences.
Conclusion:
Cats and dogs need fiber as well as meat to help their stomachs and intestines. Cat grass is also good for dogs because of its fibrous structure and the micro-nutrients it contains. In winter you can grow cat grass indoors without any special effort. This is the best way to bridge the lack of grass supply in the winter months.
Banner: Shutterstock / Anant Kasetsinsombut