Dog ownership tips
31.05.2021
Tips for Mallorca holidays with dog - these hotels and places you should know

by Johann, Johann has been a dog dad since 2018 and a dog fan since 1986.
Tips for the Mallorca holiday with dog - these hotels and places you should know
It is well known that the popular Balearic island of Mallorca not only stands for a dream beach holiday, but is also a true Eldorado for hikers and nature lovers. The spectacular landscape offers not only great opportunities for two-legged friends, but also four-legged friends get their money's worth on the Mediterranean island.
Ideal holiday destination for dog lovers
If you want to take your dog with you on holiday, Mallorca is the place to be. There are now more and more hotels, apartment complexes and fincas in which dog and master are welcome. Meanwhile, some beaches have been opened for four-legged friends, which are even accessible 365 days a year. However, when you go on a beach holiday with your dog, you should bear in mind that there is a lot of traffic on the Spanish island, especially in the summer months, and that the dog beaches are also very busy.
In addition, it is rather hot in the summer months, so it is recommended to arrive with your best friend in spring or autumn. Especially in spring, the island is a dream, the almond and fruit trees are in full bloom and also otherwise the landscape turns into a colorful sea of flowers, which you should definitely discover together.
Mallorca with dog: world heritage and cultural landscape
Are you looking for cosiness, individuality and atmosphere with your dog? Then you should choose a dog-friendly hotel on Mallorca in the Sierra de Tramuntana mountain range for your holiday. Here you will find numerous idyllic villages, cosy spots, almost endless hiking trails and plenty of space for your four-legged friend to sniff and romp around. In the tranquil town of Valldemossa you can spend a great time in the manor house made of natural stone Hotel Sa Vall Valldemossa. The town, perched on a hill, is one of the most visited in Mallorca. Time seems to have stood still here. Your dog will feel right at home here, as there are no cars in Valdemossa and he can run around the cobbled streets to his heart's content.
If you like it individual, you should look for a private finca. The natural stone buildings are usually perched in the middle of picturesque valleys or nestled against a hill, and often offer spectacular sea views. Some of the houses even have a fenced garden, so that Bello, Susi and Fiffi have plenty of room to run around. The holiday home Holiday Home Es Cavalls in Selva offers besides all kinds of luxury for you even free accommodation for pets - but they should be announced in advance. The boutique hotel Can Cota Suites & Spa, also in Selva, is not only dog-friendly, but also has a lovely outdoor pool and all sorts of amenities such as a fitness centre, pool loungers, yoga classes and more.
Frolic in the turquoise Mediterranean Sea
What's more, the Balearic island's beach destinations have plenty of dog-friendly hotels in Mallorca. Not directly on the beach, but perched on a bizarre cliff with stunning sea views, is the Hotel Petit Cala Fornells in Paguera. Moreover, it is only 50 metres away from the bathing bay. The upscale guesthouse shines not only because of its quiet location, but also because of its lovingly landscaped gardens full of palm trees and many native plants - and of course your furry nose is very welcome here.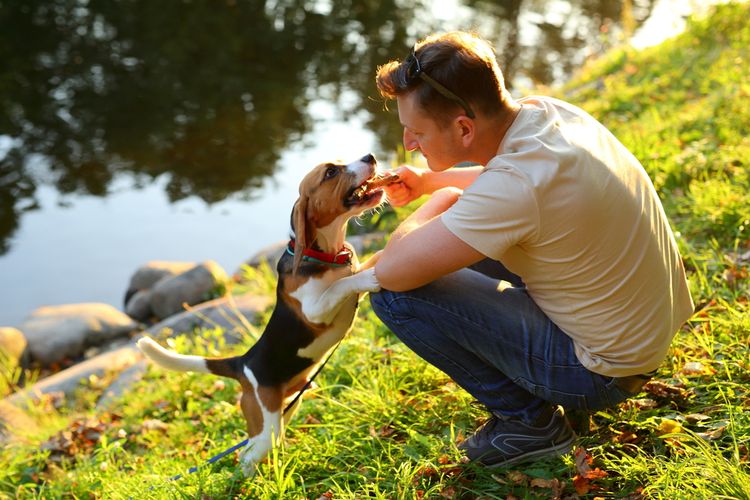 Dog beaches are a bit rare on Mallorca at the moment; the Spanish island in the Mediterranean Sea stands more for family holidaysand fun. To make it easier for you to find the dog beaches, you will find below a small list of beach sections that are officially designated for your four-legged friend:
Playa de Es Carnatge (Palma de Mallorca): about nine kilometres from Palma. The place consists of fine sand and vegetation areas. There is also a popular beach bar where you can refresh yourself while your furry friend takes a dip.
Playa de Na Patana (Santa Margarida): This sandy and rocky beach is located about two kilometres from Can Picafort and 14 kilometres from Santa Margarida. This place stands out for being very quiet as it is a little frequented beach for dogs.
Cala Blanca (Andratx): This small cove is surrounded by beautiful nature and framed by small rocks and stands out for its peace and quiet. Access to the cove is a little difficult, as you have to walk about two kilometres down a slope.
Playa de Llenaire (Port de Pollença): This sandy and rocky beach is located in Port de Pollença, a traditional fishing village in Mallorca. The stretch of beach is over 600 metres long and even has some shaded areas.
Cala dels Gats (Costa de la Palma): A small beach of stones and some sand, located between Punta dels Gats and Cala Blanca. The exclusive time of use is from 8:00 am to 8:00 pm.
In addition to the official bathing areas for pets, some municipalities turn a blind eye when you walk your dog on the beach. These exceptions only apply in the winter months, from October to April in the municipality of Artà. In Andratx or Pollença you can also use the coves during the cold season. However, you should inform yourself beforehand if you go to a beach section that is not explicitly designated as a dog beach. Well then, let's go with your best friend to the favourite island of the Germans!
Banner: Shutterstock / Kseniya Resphoto