Winter walking with your dog - these 5 tips will help you work as a team
Now that it's winter, walking your dog is often a special treat. It can be tremendous fun to romp in the snow with your dog. There are a few things you should watch out for, though, to make sure your dog enjoys the walk or hike as much as you do. Every dog struggles in winter with cold, wet, ice on the paws and salt and grit between the paw pads.
Dog in the snow - short trips at the beginning
It depends a little on the size of the dog, but as a rule, walks and hikes are a little more strenuous for the dog in winter than in summer - just as they are for you. Depending on how high the snow is, breeds with short legs and smaller dogs may fare worse. It is also colder. Therefore - even if it has snowed wonderfully - you should start with small trips and increase slowly.
Dog has cold feet, keep warm and dry!
A common problem - with all dogs are cold feet. You can see it when they start to stop all the time, even lie down and lick their paws. You have shoes and even stockings on - so don't be surprised if your dogs' paws freeze and go home with them in time.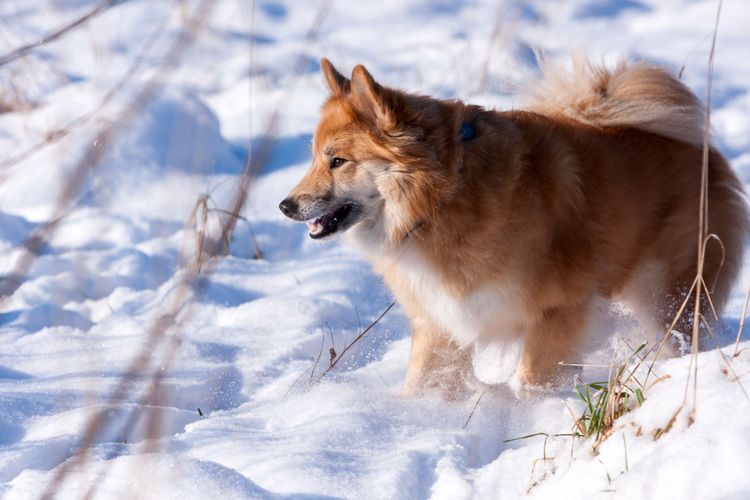 Dog hates salt and pebbles on groomed paths.
Or - even puts shoes on them. Many people find the thought of clothing for the dog strange, but animals are sensitive to the cold just like people. Of course, they have their fur, but on the paws below they have none. On top of that, salt or grit can really hurt dog paws. That's why you should protect your dog's feet when you walk on prepared paths. And when you come home, you should wash your dog's feet immediately with lukewarm water - even if your four-legged friend is not a fan of footbaths.
Winter clothing for the dog - should keep warm and dry
Small bodies freeze faster than large ones. Small dogs are like human babies - you have to wrap them up very warm if you want to take them out in the snow. Coats should be waterproof - dogs don't sweat, they pant. And since the coat doesn't usually cover the whole dog, there shouldn't really be a problem. But if you notice that your dogs are panting despite the cold, then it is high time to return home.
AND FINALLY: DOG IN THE SNOW - THAT'S HOW HE ENJOYS IT
Romping around in a coat on unpaved winter meadows, having a ball thrown at him and carrying sticks in the woods - your four-legged friend will be happy and you will be the perfect team for hikes and walks in winter.