All American Staffordshire Terrier at a glance
In the fascinating world of American Staffordshire Terrier mongrels, who combine powerful strength and gentle tenderness, you will be offered a glimpse here.

American Staffordshire Terrier
USA
Show details
American Staffordshire Terrier Mongrels: A Combination of Strength and Gentleness
American Staffordshire Terrier mixes form a fascinating crossbreed where powerful strength meets unexpected gentleness. These rugged yet loving mixed breeds offer a unique blend of breed traits that appeals to both dog lovers and potential owners.
Balance of Strength and Gentleness: American Staffordshire Terrier mixes feature a balance of strength and gentleness. They are sturdy and athletic, yet loving and gentle, making them ideal companions for active families.
Varied personality traits: the personality traits of an American Staffordshire Terrier mix can be very diverse, depending on what other breeds are included in the mix. This leads to a wide range of temperaments that can range from lively and energetic to calm and balanced.
Robust health: improved health can be observed due to the genetic diversity that mixed breeds exhibit. The likelihood of certain breed-specific health problems may be reduced in mixed breeds, as genetic diversity helps to reduce the risk of inheriting such problems.
Adaptability: American Staffordshire Terrier mixed breeds are known for their adaptability. They can adapt well to different environments and lifestyles, making them an excellent choice for a variety of households.
Loyalty and faithfulness: thanks to their upbringing and socialization, American Staffordshire Terrier mixes are often extremely loyal and faithful. They tend to develop strong bonds with their families and are often very protective.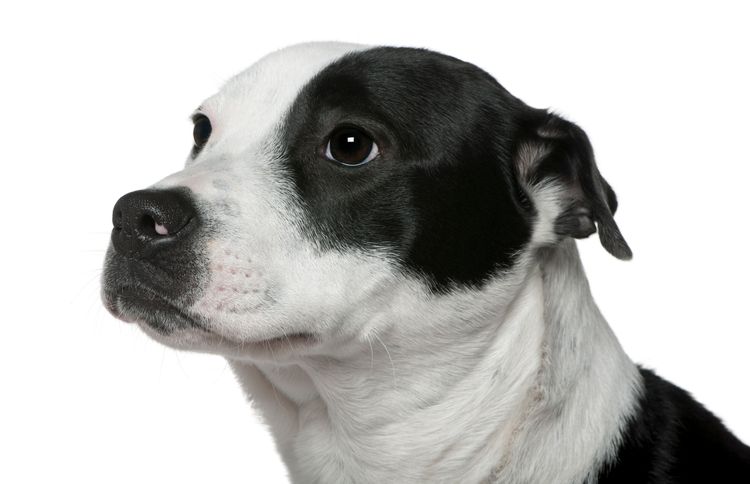 Depositphotos / adogslifephoto