Dog ownership tips
04.01.2023
8 activities in Austria for dogs in winter

by Sissi, Sissi has been a blogger since 2014, got on the dog in 2018. Since then, she struts her 10000 steps through the world every day with Loki. The Beagdor (Labrador-Beagle mix) is a therapy dog for children and also accompanies her to schools. Secretly she fancies a French Bulldog as a second dog.
The best day trips with dog in Austria in winter
Austria offers plenty of options for trips with your dog in the winter. From snow-capped mountains and picturesque villages to cozy inns and dog skiing courses, there are plenty of activities for dog owners and their four-legged friends to enjoy.
Here are the top 8 excursions in Austria in winter that welcome dogs:
Skiing in the Alps: Many ski resorts in Austria allow dogs on the slopes as long as they are on a leash. There are also special dog skiing courses where dogs can learn to ski. Skiing in the ski resort of St. Anton am Arlberg: St. Anton am Arlberg is one of the most famous ski resorts in Austria and offers varied slopes for all levels of difficulty. Dogs are unfortunately not allowed in the ski area, but there are many opportunities for winter walks in the area. Also popular are the cross-country ski trails around St. Anton, where dogs are allowed.

Winter hiking in the mountains: Austria's mountains offer many beautiful hiking trails covered in snow in winter. Dogs are welcome on many of these trails as long as they are on a leash. Hiking in the Tux Valley: The Tux Valley in Tyrol is known for its picturesque landscapes and numerous hiking trails. In winter, the valley offers many opportunities especially for ski tourers and snowshoe hikers. Dogs are also allowed on most hiking trails, as long as they are kept on a leash. A highlight is the tour to the Hintertux Glacier World, which is also open in winter.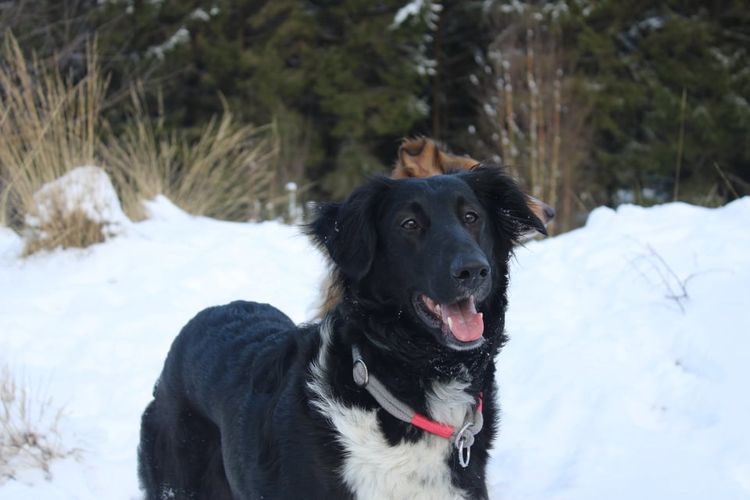 Jessica Seiffert
Dog sledding: A special experience for dogs and their owners is a dog sledding trip. These trips usually take place near ski resorts and are suitable for dogs of all sizes.

Visit to the dog spa: Why not let yourself be pampered for once? There are many dog spas in Austria that offer massages, baths and other wellness treatments for dogs.

Dog Yoga: For all dog owners who like to keep their four-legged friends active, there are also dog yoga classes. These classes help strengthen the bond between dog and owner and improve the dog's posture and agility.

Visit a dog café: There are also dog cafés in Austria where dogs and their owners can relax together and have a drink or a meal.

Walk through a medieval village: Austria's medieval villages are particularly picturesque in winter and are perfect for a walk with the dog.

Visit the dog museum: For dog lovers, Austria also has a dog museum dedicated to the life and history of dogs.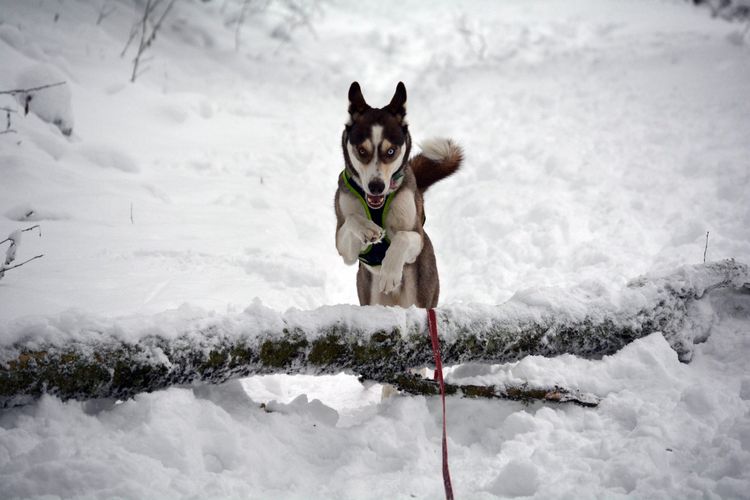 Nicole Kaster
Overall, there are many options for trips with the dog in winter in Austria. From hiking and skiing to ice skating, there are many different activities that are fun for both humans and dogs. Whether you want to explore the wintry countryside of Tyrol or spend a day in the capital, Austria has a destination for everyone.
Here are similar articles that might interest you:
Banner: Janine Anselment