Dog beach Balaton: You should know these dog places at Lake Balaton
Lake Balaton is becoming more and more popular as a holiday destination. Summer, sunshine and beach feeling can be enjoyed here wonderfully. If you would like to share these vacation experiences however with your quadruped, this can become difficult under circumstances, because in completely Hungary dog prohibition rules at all public beach sections.
Numerous nature reserves
Especially in the northern shore area of Lake Balaton there are numerous nature reserves. For this reason already the bathing for masters and mistresses on the relatively few public beaches is strongly restricted. Therefore there is no swimming possibility for your four-legged friend here. Basically, however, there is no law in Hungary, which expressly prohibits bathing with dogs, outside the nature reserve. At places, at which no prohibition sign is to be seen, you can let your favourite quite in the water. However, great caution is advised, because most of these small places are between stones and sharp reeds.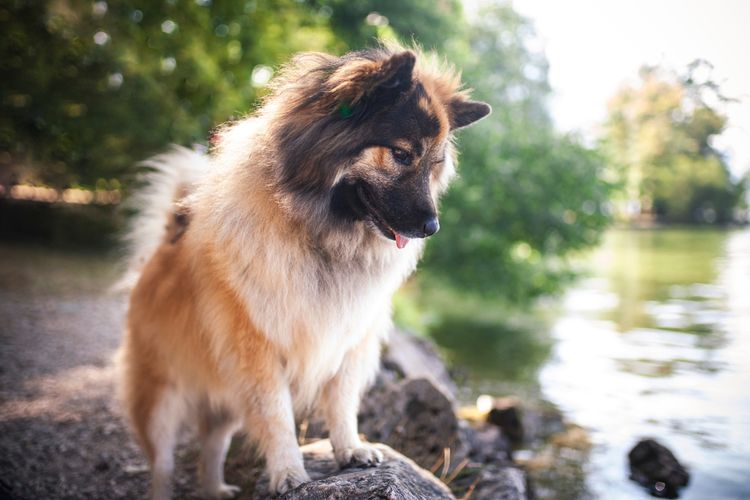 Two designated dog beaches at Lake Balaton
Although Lake Balaton is the largest lake in Central and Western Europe, there are only two designated official dog beaches. These are located on the southern shore of the lake.
The dog beach Balatonföldvár and the dog beach Fonyód are the only two official beaches where you can enjoy the cool water together with your darling and plunge into the floods.
Balatonföldvár
free of charge
Pure nature
Big trees, a meadow and stones, these are the basic conditions at the dog beach Balatonföldvár. The access to the dog beach is free, but you should not expect too much. Because there are neither toilets nor changing cabins or even a beach bar. You can easily get into the shallow water via a ramp. You will find enough space and shady trees on the adjacent sunbathing lawn. In the high season, however, it can get very crowded there, especially around lunchtime.
Fonyódi Kutyás Fürdőhely
4000sqm beach
no leash obligation
beach bar for humans and animals
small access fee
The second dog beach on Lake Balaton is located near the town of the same name, Fonyód, on the southern shore of Lake Balaton. This one was just rebuilt and redesigned at the beginning of 2018. Unlike Balatonföldvár, access to the beach is not free. The fee is 200 HUF per day and per person and dog. Converted this amounts to about 0,65 Euro. In return, you will find perfect conditions for a beach holiday with your pet at Fonyódi Kutyás Fürdőhely.
Your dog can run and romp here to his heart's content, because there is no leash requirement here. The beach area of about 4000 square meters is also fenced since the reconstruction. Furthermore, there are rubbish bins distributed over the entire area, which are emptied regularly, as well as free dog excrement bags. Toilets have also been installed for dog owners.
To get into Lake Balaton, you climb a flight of steps into the very shallow body of water. The steps are covered with artificial grass, so that there is no danger of slipping for humans and animals.
After a long swim in the lake, it is not uncommon to need to replenish your energy reserves. The small beach bar at Fonyódi Kutyás Fürdőhely offers a wonderful opportunity to do so. Here you can get ice cream and snacks as well as dog accessories for your darling.
For just 0.65 euros you get a lot offered at the Fonyódi Kutyás Fürdőhely.