Black brown dogs we love
Black and tan dogs have an impressive color combination that often makes their appearance particularly striking. This color mixture can be found in many dog breeds and gives each dog a unique appearance.
Black and brown dogs have always fascinated with their striking and at the same time harmonious coloration. The deep blackness, combined with warm shades of brown, not only creates an impressive play of contrasts, but also gives these four-legged friends a noble and often majestic appearance. On this overview page, we dive deeper into the world of black and brown dogs and explore how this beautiful color combination shapes different breeds and makes their appearance stand out.
Boxer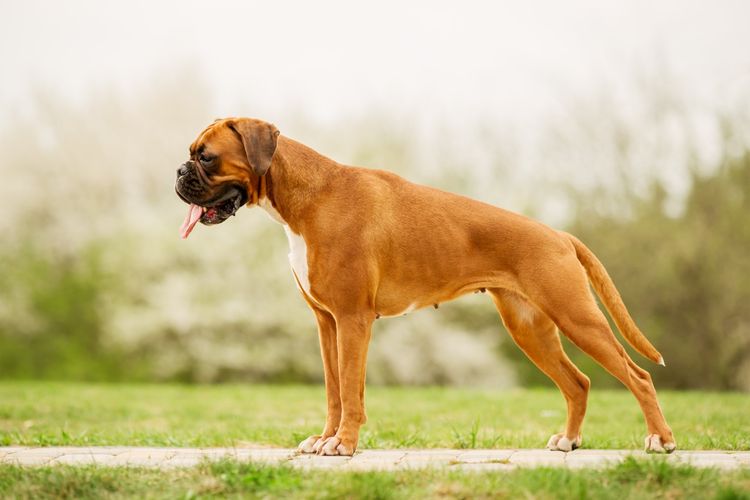 Depositphotos / atomadog
The Boxer is an impressive breed of dog that is notable for both its temperament and appearance. One characteristic common to many Boxers is their black and brown coat, also known as brindle or reverse brindle. This particular coloration gives the Boxer a characteristic and distinctive appearance.
The deep black blends harmoniously with the brown tones, often forming a wave-like pattern that extends over the dog's body. This coat pattern can vary, with some Boxers exhibiting darker, almost predominantly black shades, while others show a higher percentage of brown. Regardless of the exact shades, this color combination impressively emphasizes the Boxer's athletic stature and muscular contours.
Not only the color, but also the texture of the coat is remarkable. The Boxer's short, glossy coat is easy to groom and feels pleasantly smooth. Although the Boxer's coat can come in a variety of color options, the black and brown combination remains one of the most iconic and is especially prized by many dog lovers. It is this unique blend of strength and beauty that makes the black and tan Boxer a true eye-catcher.
Malinois
Depositphotos / oov
The Malinois, a subspecies of the Belgian Shepherd, is known for its remarkable energy and intelligence. But just as impressive as his temperament is his black and brown coat. This coat pattern, often referred to as "sable" or "fawn," is usually a warm shade of brown that forms the base of the coat, with black tips that give the dog a shaded, often smoky appearance. The black "coat" or "saddle" that often extends over the Malinois' back and flanks contrasts strongly with the lighter undercoat. This color combination emphasizes the Malinois' athletic, elegant silhouette and gives it a majestic aura. In addition, the black and brown coat accentuates the expressive eyes and distinctive facial mask that are characteristic of this breed. This play of colors makes the Malinois not only an efficient working and guard dog, but also a visual highlight in the world of dog breeds.
Leonberger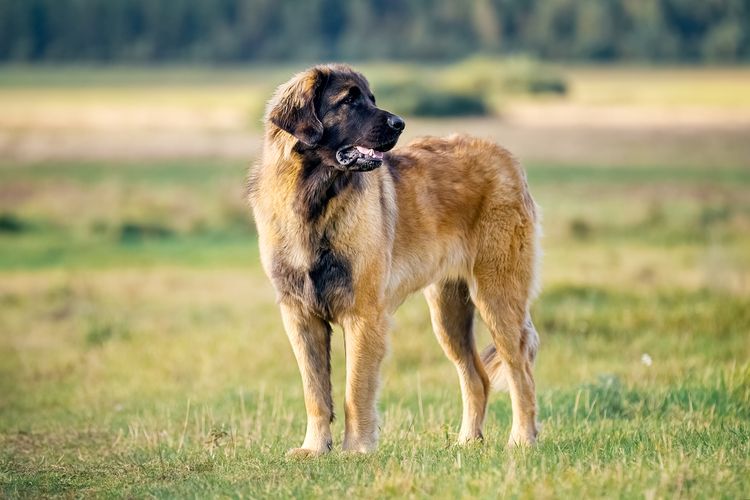 Depositphotos / Julia_Siomuha
The Leonberger, a majestic breed named after the German town of Leonberg, impresses with its imposing size and lush, multicolored coat. His coat varies in hues from sandy yellow to a rich reddish brown, often streaked with black hair tips, especially on the face and mane. This black "veil" gives the Leonberger a distinctive lion look, which, in combination with his mane, reinforces the impression of a "domestic lion" - an image that breeders originally intended to create.
The Leonberger's coat is not only beautiful, but also functional: it is water repellent and provides protection in a wide variety of climatic conditions. The dense undercoat coupled with the longer topcoat makes the coat particularly plush and requires regular grooming. This magnificent pelt, along with its gentle yet confident appearance, makes the Leonberger a distinctive and admired member of the canine family.
Eurasier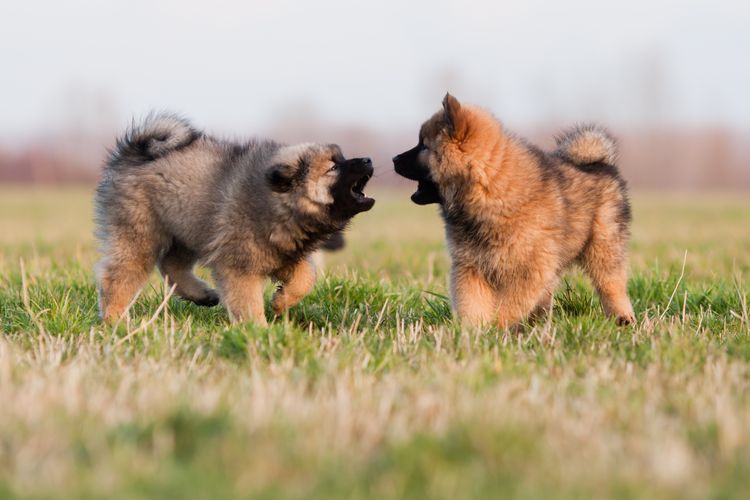 Depositphotos / Madrabothair
The Eurasier is a relatively young breed of dog, characterized by its balanced personality and impressive appearance. Prominent is their medium-length, dense coat, which can come in a variety of colors, including combinations of black, brown and other shades.
The Eurasier's coat is dense and well insulated, with a soft undercoat and a slightly longer outer coat. This provides him with protection from various weather conditions, while also giving him a plush, almost "bear-like" appearance. Some Eurasiers have a black mask or have black hair tips that provide a nice contrast to their base color.
In addition to the variety of colors, it is the texture and quality of the coat that makes the Eurasier special: it is neither too smooth nor too curly, but has a certain softness that invites stroking. Despite its beauty, the Eurasier's coat is surprisingly easy to care for and maintains its appealing appearance with minimal grooming. Overall, the Eurasier combines visual beauty with a distinctive coat that is both functional and aesthetic.
Dachshund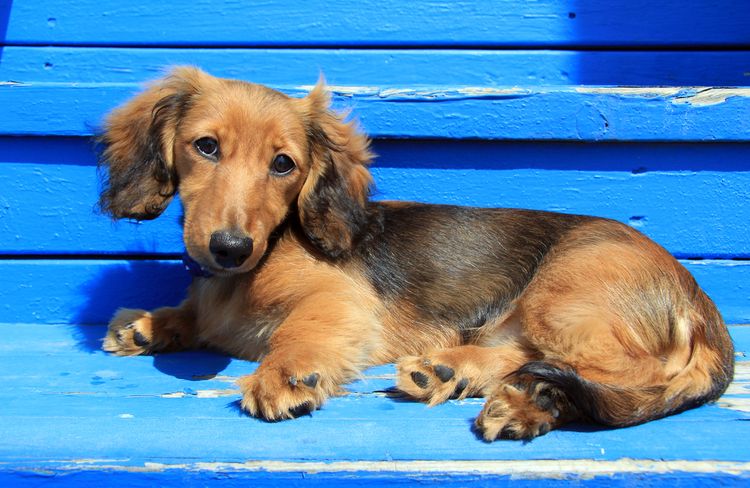 Depositphotos / Hannamariah
The Dachshund, also known as the dachshund, is one of the most iconic and popular dog breeds in the world. A particular eye-catching feature of many Dachshunds is their black and brown coat. This color combination, often referred to as "bi-color," usually consists of a deep, chocolate brown base color interspersed with black markings, particularly on the back, head, and often on the paws.
The black and brown coat gives the Dachshund an elegant yet rustic appearance that beautifully accentuates its distinctive build. The contrast between the deep black and warm brown accentuates the Dachshund's fine facial features, including his expressive eyes and pointed muzzle.
This color combination, coupled with the elongated body and short legs, makes the black and brown Dachshund an instantly recognizable and memorable sight. Although Dachshunds come in a variety of colors and patterns, the black and tan variety remains one of the most classic and is especially prized by breeders and dog lovers alike.
Doberman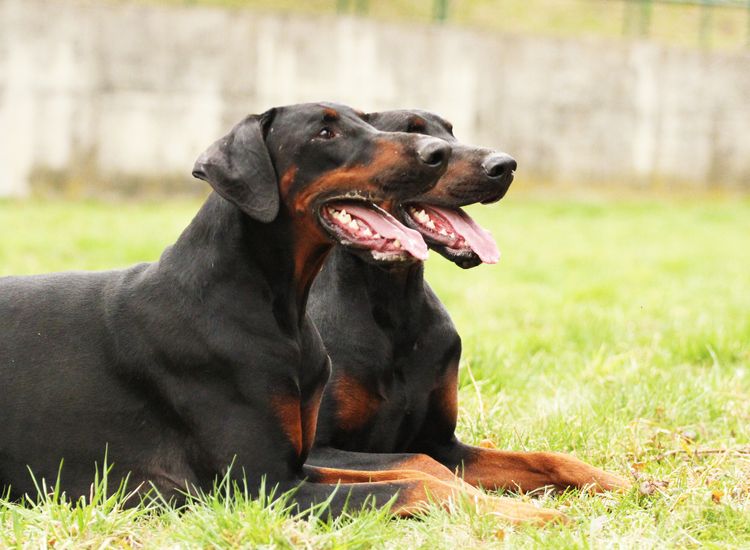 Depositphotos / Carmelka
The Doberman is an elegant and powerful dog breed, known for its alertness, intelligence and loyalty. One of the most characteristic features of the Doberman is its short, glossy coat, which typically comes in a black and brown coloration. Deep black forms the base of the coat, while distinctive rusty brown markings appear in areas such as the cheeks, eyebrows, chest, legs and tail set. This contrasting color combination gives the Doberman an impressive and distinctive appearance.
The coat itself is smooth and lies close to the body, emphasizing the dog's athletic muscular structure. This coloration, coupled with its slender profile and upright stance, gives the Doberman an aura of authority and grace. Its distinctive brown "spot markings" not only serve aesthetic purposes, but also allow the Doberman to be easily distinguished from other black dog breeds. In the dog world, the black and brown Doberman is considered a symbol of elegance combined with strength and determination.
Rottweiler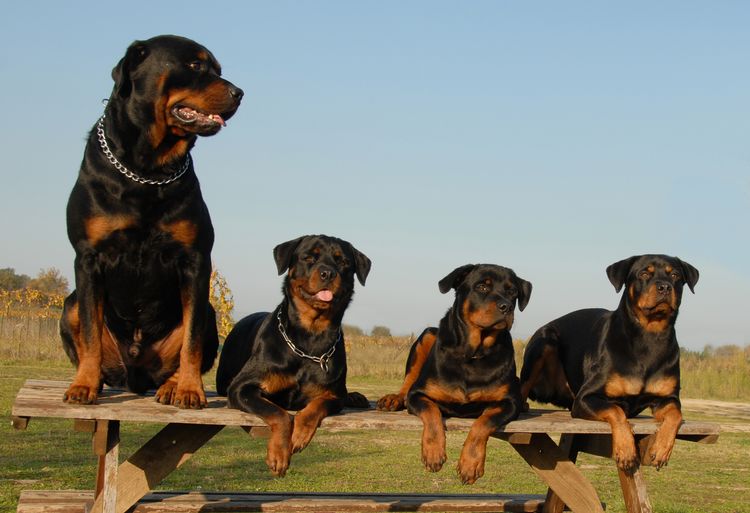 Depositphotos / cynoclub
The Rottweiler, often simply called "Rotti", is a robust and imposing dog breed known for both its loyalty and alertness. One of its most distinctive features is its short, dense coat of black and brown coloration. Deep, glossy black forms the dominant base color, while clear tan or rusty brown markings accentuate his cheeks, eyebrows, chest, legs and the area under his tail.
This specific color distribution gives the Rottweiler a characteristic and distinctive appearance. The deep black emphasizes the dog's strength and massive build, while the brown markings add expression and character to its face.
Although the Rottweiler is often the focus of attention because of its role as a guard or protection dog, it is this unique coat color combination that makes it so distinctive in the dog family. In a way, the black and brown coloring symbolizes the dualism of the Rottweiler: strong and protective on the one hand, loyal and loving to his family on the other.
Bloodhound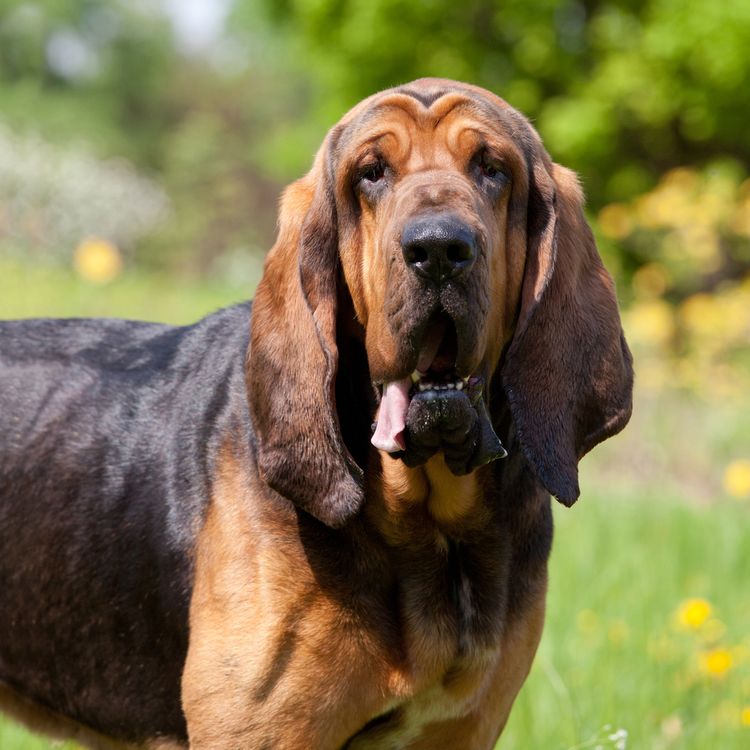 Depositphotos / Lenkadan
The bloodhound, also known as the St. Hubert hound, is famous for its unmatched tracking ability and distinctive appearance. Its coat can appear in a palette of colors, with the combination of black and brown (often referred to as "black tan") being particularly characteristic. This color pattern often presents itself as a deep black coat covering the dog's back and sides, while warm brown or tan tones highlight the face, legs, and underbelly. The contrast of these colors emphasizes the Bloodhound's deep-set, expressive eyes and wrinkles, which add character and depth to his appearance. Despite its serious working nature as a scent hound, the soft color transitions and its melancholy look give it a special aesthetic and elegance.
Black-brown is a shade that contains elements of both deep black and brown. It is a dark, almost mystical color, reminiscent of the darkness of earth or deep forest. Compared to pure black, black-brown has a warmer tonality due to the brown components. Depending on the lighting conditions and the intensity of the brown component, this color can sometimes look more like a very dark brown or almost black. It is often associated with elegance, sophistication and a touch of naturalness. In fashion, interior design or other applications, black-brown often conveys a sense of depth and complexity while appearing more earthy and less austere than pure black. It is a color that combines both modern and classic, timeless elements.