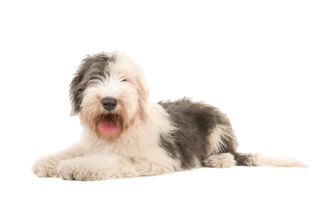 Bobtail
Breed description: Character & Co
Facts & Origin
The Bobtail, which is the colloquial name for the Old English Sheepdog, is an FCI recognised dog breed, which belongs to the group of herding dogs. Bobtail means stub tail and the Japanese Bobtail is actually not a dog, but a cat breed from Japan which has a stub for a tail. Unlike most guard dogs, the Bobtail is much more sociable and is therefore often no longer kept as a herding dog, but also as a companion or family dog. If you would like to buy a Bobtail puppy, you should do so at a recognised breeder. Of course, you can also go to a local shelter to see if you can find a Bobtail that you would like to give a new home to. Now here is some information about the Bobtail or Old English Sheepdog that might be helpful for you.
Summary about the Old English Sheepdog
- The Bobtail is also called Old English Sheepdog.
- The Bobtail is a herding dog that is suitable for families nonetheless.
- You should buy Bobtail puppies from a breeder.
- The Japanese Bobtail is not a dog, but a cat.
What is the origin of the Bobtail?
The Bobtail originates from Great Britain and in former times it was mainly kept there by noblemen or rich farmers. How this dog breed came to Great Britain is not known.
Banner: Shutterstock / MirasWonderland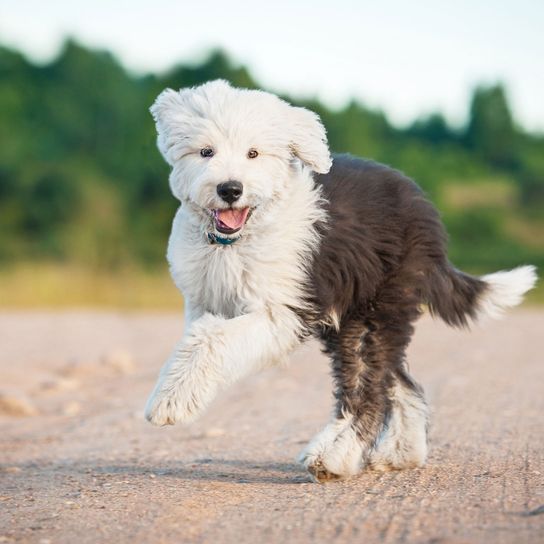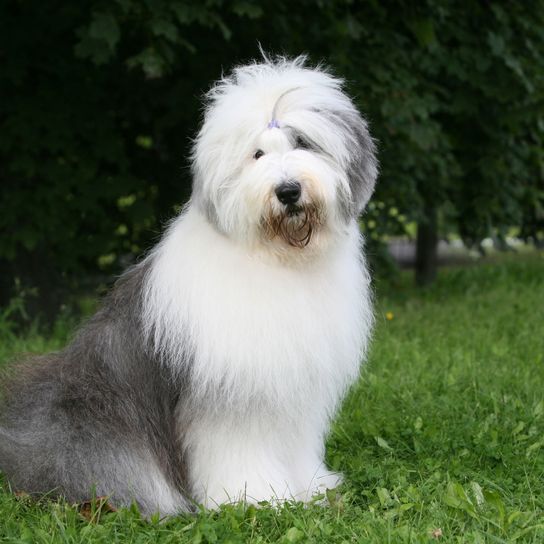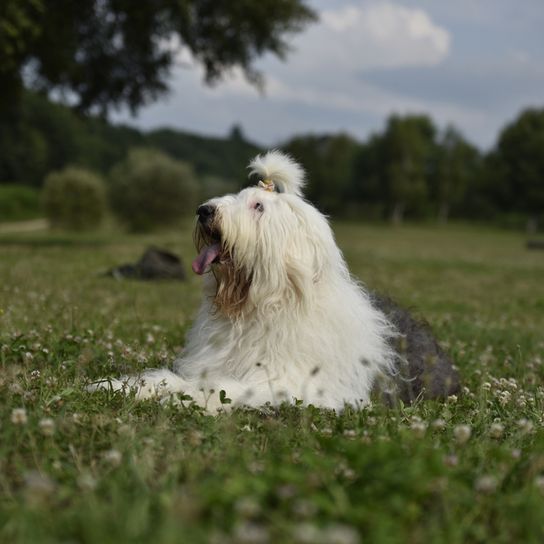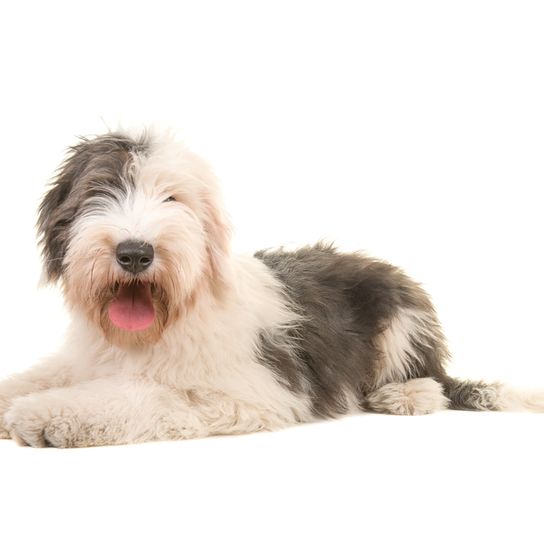 | | |
| --- | --- |
| Alternate Name | Old English Sheepdog |
| Origin | UK |
| Life expectancy | 12 - 13 years |
| Care requirements | high-maintenance |
| | |
| --- | --- |
| Activity level | average |
| FCI group | Sheepdogs |
| AKC group | Herding Group |
| KC group | Pastoral Group |
Attitude, character and temperament of the breed
What are the breed characteristics of the Bobtail?
The Bobtail is a large dog that stands out due to its long and particularly dense coat. In former times this was important for his work as a herding dog and protection dog, because this way it was protected from wind and weather conditions and the dense coat was an additional protection against wolf attacks. When a Bobtail barks, it sounds very loud. The typical protective instinct of all herding protection dogs has not been lost to the Bobtail, despite its peaceful nature, and can be useful in case of an attack on its family. The Bobtail is considered a very healthy dog breed and generally is quite low maintenance, at least concerning its nutrition and keeping. Only the long and luxuriant coat needs a lot of care and has to be brushed a lot. Once wet it need a long time to get dry. If it is very hot outside, it is important that the Bobtail has a shady spot to escape into.
What are typical character traits of the Bobtail?
You can raise a Bobtail very well, but only on a basis of trust, not forcefulness. This they don't appreciate at all. They can be trained well when an emotional connection to its owner has been established. This dog is very loyal and loves its family more than anything. They love to learn and keep a sense of playfulness throughout their life, which is why they always need to be kept busy enough not to get bored. Even if a Bobtail has a great protective instinct, they are extremely friendly and peaceful, which distinguishes them from all other herd protection dog breeds.
The character of the Bobtail in summary:
easy to train
needs an emotional connection
loyal
playful
friendly
with a strong protective instinct
Character
adaptable
intelligent
affectionate
affable
playful
Usage
Herding Dog
Sheepdog
Family Dog

Health and breeding information
What are typical diseases of Bobtails?
In general, the Bobtail is considered a very robust and also healthy dog breed. However, in exceptional cases there is a certain breed-typical disease that can occur. This is the so-called MDR-1 defect. This disease affects eyes and ears, if it does occur.
What should be considered when breeding Bobtails?
It is not a long known fact that Bobtails are prone to developing the above mentioned MDR-1 defect which can also be inherited. Whoever wants to breed this dog should make sure that the breeding animals have not been affected by it as far as known. If you are thinking of breeding Bobtails, you should inform the buyers when selling the puppies that the Bobtail as a typical herd protection dog needs to be trained in a loving, yet consistent manner from the beginning onwards if you want it to become a good family dog later on.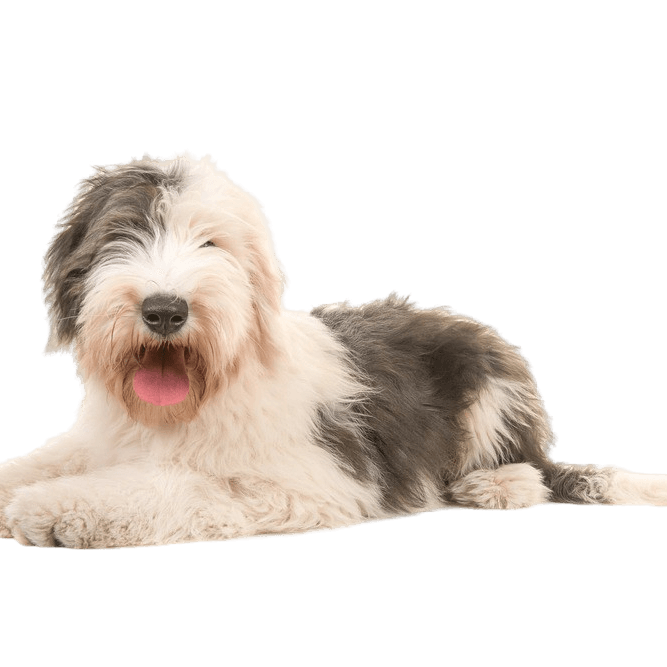 Appearance and coat of the Bobtail
The Bobtail is very large and has a long, yet rather smooth coat that isn't curly as such, but can appear a bit wavy at times. The coat can show all shades from grey to blue, but mainly on the back and the hind legs. The feet are often white, but not in all cases. Also the head and chest are often white in the Bobtail. Some Bobtails really are born with a stub for a tail. This genetic characteristic once gave these dogs their name. But this is not always the case. Many Bobtails are also born with a long tail. Today, the tail is no longer docked in the Bobtail.
How big does a Bobtail get?
Bobtail males reach a withers height of 61 cm or more, Bobtail females reach 56 cm in height or more.
How much does a Bobtail weigh?
The FCI does not give any information about the typical weight of a Bobtail.
What is the average lifespan of a Bobtail?
With good keeping the average life expectancy of a Bobtail is 12 to 13 years.
| | |
| --- | --- |
| Fur length | medium |
| Fur | - |
| Ear shape | Floppy Ear |
| Tail | stubby |
| Anatomy | rugged |
| | |
| --- | --- |
| Size ♀ | 51 - 56 cm |
| Weight ♀ | 27 - 36 kg |
| Size ♂ | 56 - 66 cm |
| Weight ♂ | 32 - 45 kg |
| Suitable For | Children |
Colors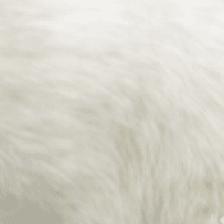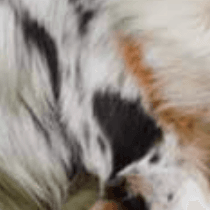 Known Diseases
Eye infections

Chronic eye infections can be very painful in dogs and can be treated with medication. In rare cases, the cornea must be treated.

Skin inflammations

Can be hereditary in certain breeds.

MDR1 defect

The MDR1 defect is a defect in the MDR1 gene that can occur in some breeds of dogs and in humans. This results in the deficient or absent synthesis of a certain protein which is an important component of the blood-brain barrier, leading to hypersensitivity to some drugs.
FAQ
A Bobtail costs between 1500 and 2000 Euro.