Yes, dogs can actually eat oatmeal, and it can even provide some health benefits for your four-legged friend. In this blog post, we'll look at the pros and cons, dosage, ingredients and nutritional values of oatmeal in terms of dog nutrition.
Advantages and disadvantages of oatmeal for dogs
Advantages:
High nutrient content: oatmeal is a good source of vitamins, minerals and fiber. They contain vitamin B, iron, manganese, zinc and magnesium.
Good for digestion: Thanks to their fiber content, oatmeal can aid digestion and is especially helpful for dogs with gastrointestinal problems.
Energy source: Oatmeal is a great source of energy, especially for active dogs.
Skin and coat health: The nutrients found in oatmeal can help keep your dog's skin and coat healthy.
Cons:
High in calories: oatmeal is relatively high in calories, which can be problematic for dogs who are prone to obesity.
Not suitable for all dogs: Some dogs may be sensitive to grains or even have a grain allergy.
Possible digestive problems: Although oatmeal is generally well tolerated, it can cause bloating or other digestive problems in some dogs.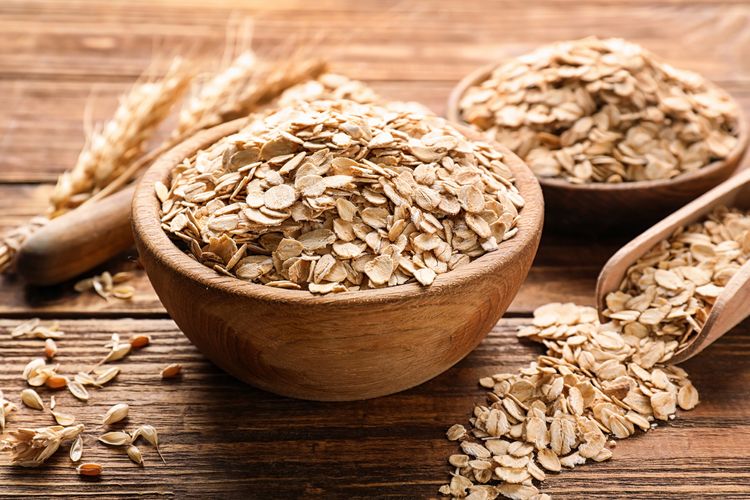 Depositphotos / serezniy
Oatmeal dosage
The amount of oatmeal you can feed your dog depends on its size, activity level and general health. As a general rule:
Small dogs: 1 teaspoon to 1 tablespoon
Medium sized dogs: 2 tablespoons to 1/4 cup
Large dogs: 1/4 to 1/2 cup
It is important to consider oatmeal as a supplement to your dog's normal diet and not as a substitute for their regular meal.
Ingredients and nutritional values
Oatmeal consists mainly of carbohydrates, but also contains proteins and fats. Here is an overview of the most important nutrients per 100 grams of oatmeal:
Calories: About 389 kcal
Proteins: 16.9 g
Fats: 6.9 g
Carbohydrates: 66.3 g
Dietary fiber: 10.6 g
Vitamin B1 (thiamine): 0.76 mg
Iron: 4.72 mg
Magnesium: 177 mg
Preparation and feeding
Cooking: It is best to cook the oatmeal before feeding to make it easier to digest.
No sugar or flavorings: Make sure the oatmeal does not contain any added sugar or artificial flavorings.
Slow introduction: Start with small amounts to see how your dog reacts.
Oatmeal can be a healthy and nutritious addition to your dog's diet. They offer many benefits, but it's important to limit the amount and pay attention to how your dog reacts to them. If you are unsure or if your dog has any particular health conditions, you should speak to your vet first