Dog training
05.06.2020
Dogs in cars - what to watch out for, legal situation and important information

by Thomas, Thomas has contributed the technical know-wau uh know-how to dogbible and is not only enthusiastic about Japan, but also calls the Shiba his favorite dog, which hopefully will soon be allowed to take up residence in his Rooftopgarden.
Dogs have long since ceased to be mere farm animals and have become permanent family members that accompany us wherever we go. That's why it is a matter of course for many dog owners in this country to take their beloved four-legged friends with them on trips or holidays. Often this is not a problem, because most pelt-noses love the trips in the car and get along well with the conditions in the vehicle. In the following guide, you will find out what you need to bear in mind if you want to take your dog with you in the car, what the legal situation is on this subject and what tips there are for getting your pet used to driving.
Leave your dog in the car
Compact applies:
Get dogs used to the car at an early stage
Pay attention to the individual space requirements of the animal
Never leave dogs alone in the car on hot days
Follow the safety regulations
Use dog transport boxes, separating grids or dog trailers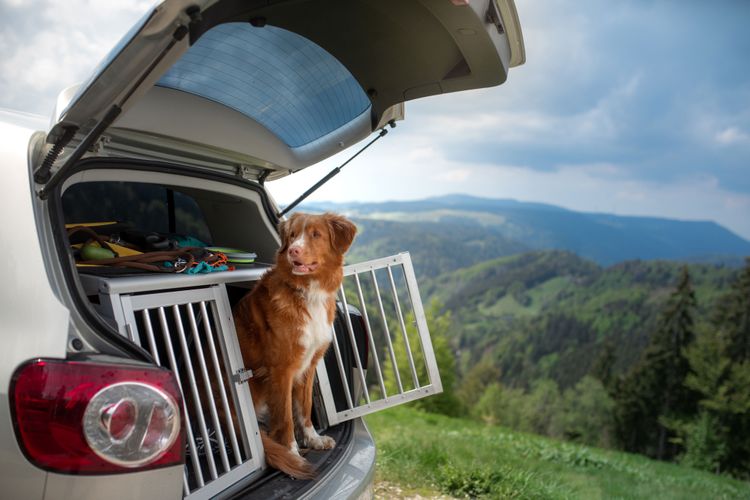 Dogs in cars - The right habituation
The sooner you get your furry companion used to travelling in a car, the better the chances are that your four-legged friend will soon find the journey in a car normal and harmless. At the same time, however, you should make sure that you introduce your puppy gently to road traffic, so keep a gentle pace and, if possible, avoid routes with lots of bends. Because just like us humans, some dogs are prone to motion sickness. If, despite this, your pelt-nose should have a mishap, you should under no circumstances reprimand it loudly, so that the negative experience is not made even worse.
Not all dogs are the same
When you are looking for the right place to transport your dog in the car, you should also consider the individual needs of your pet. Many owners put their pets in the boot of the car, but if there isn't enough room, the journey can quickly become an ordeal, especially for large breeds. So unless you own a station wagon, it is better to let your large four-legged friend sit in the back seat. But always keep in mind: The applicable safety precautions must always be observed. After all, you don't want to put your pet, yourself or other road users in unnecessary danger.
Dogs in the car - danger due to heat
When summer temperatures are hot, you should never leave your dog alone in the car. Since the temperature inside the car rises very quickly, you risk that your four-legged friend suffers a heat stroke. Already with an outside temperature of 20 degrees Celsius an inside temperature of 46 degrees Celsius prevails in a closed car parked in the sun after 60 minutes. Such conditions are absolutely life-threatening for dogs, so if in doubt, leave your furry friend at home.
Dogs in cars - The legal situation
In traffic law, dogs are generally considered "cargo" and must be secured accordingly. The transport of your furry friend must therefore be prepared for all eventualities of road traffic. In plain language, this means that even manoeuvres such as emergency braking or evasive movements must not result in your pet being thrown through the vehicle. This would not only be life-threatening for the dog, but also for all other occupants of the car. If the driver loses control of his car due to this, this would of course also be a great danger for all other road users.
Dog crate and Co. - The correct transport
To prevent such horror scenarios from occurring, there are various transport options for your dog. The dog transport box for cars is considered particularly safe, which is especially suitable for smaller dog breeds and is best placed in the footwell of the back seat behind the driver's seat. Such a dog box is a place of retreat for your pelt-noses within the car and at the same time conveys the feeling of security.
If your trunk offers enough space for the transport of the dog, you can separate this area from the rest of the vehicle with the help of a partition grid. Alternatively, your pelt-nose can also ride in the back seat, provided it is adequately secured with a chest harness. As an additional alternative, there are also special dog trailers for cars, which are attached outside the vehicle.
Banner: Shutterstock / thka