Dog food
28.09.2020
Vegan dog food - polarizing topic

by Johann, Johann has been a dog dad since 2018 and a dog fan since 1986.
Vegan dog food
We love our furry noses and want to give them only the best, and this has always included meat. After all, dogs are carnivores. Or are they not? In order not to bring our understanding completely in the sway, dogs count in fact to the carnivores. That means their teeth and digestive tract are capable of processing meat. However, this doesn't mean that only meat has to be on the menu. In recent years, more and more people have decided to go vegetarian or vegan. This initially individual decision soon includes the partner and the whole family - and this family naturally includes the dog.
What may seem almost unnatural at first glance - feeding a dog vegan, is not so far-fetched on closer inspection.
"In principle one can nourish a dog already vegan, without harming it", knows the professor for animal nutrition Josef Kamphues, of the veterinary university Hanover. In representative studies both conventional and vegan fodder was tested at the test dogs. The result surprising for many: Also the vegan dogs tasted the fodder well and it went to them splendidly.
Professor Kamphues explains why the result should not actually be surprising: "For a needs-based supply, it is of secondary importance whether the required carbohydrates, fats, proteins and minerals come from an animal or a plant". Important is actually only the correct composition, in order not to let deficiency symptoms arise at all. The mission "feed dog vegan" is therefore by no means doomed to failure, but quite the opposite, an experiment that you can consider as a dog owner quite.
Vegetarian dog food
It is even easier to feed your faithful companion (yes, we are still talking about the dog, not the man) vegetarian. While with vegan food you often still have to think about what can go in and where animal ingredients might be hiding, vegetarian food is already so common that you hardly have to think about it.
Whether one decides for the meatless food, remains naturally for everyone to decide. For some the bone, the menu from the can and the rumen belong so naturally to the dog nutrition that a renouncement on it is unthinkable. Other animal lovers may have always incorporated plenty of fruit and vegetables into their pet's diet anyway, and the change is not a big one at all.
In the end, there is no right or wrong. You can take the middle road and alternate between meatless and meat-containing foods, you can add new "areas" to the menu or stick with the tried and true.
The important thing is that both dog and owner feel good!
Is vegan dog food healthy? Yep! We answer it with a video below.
Advantages of meatless dog food:
- More variety for the animal
- Varied vitamin supply
- Animals from which the food is made stay alive
- Owners who live meatless themselves can better identify with this feeding method
Disadvantages of meatless dog food:
Often more expensive
More time-consuming to prepare
"Monitoring" of the required ingredients, such as carbohydrates, fats and proteins
Accustoming, social acceptance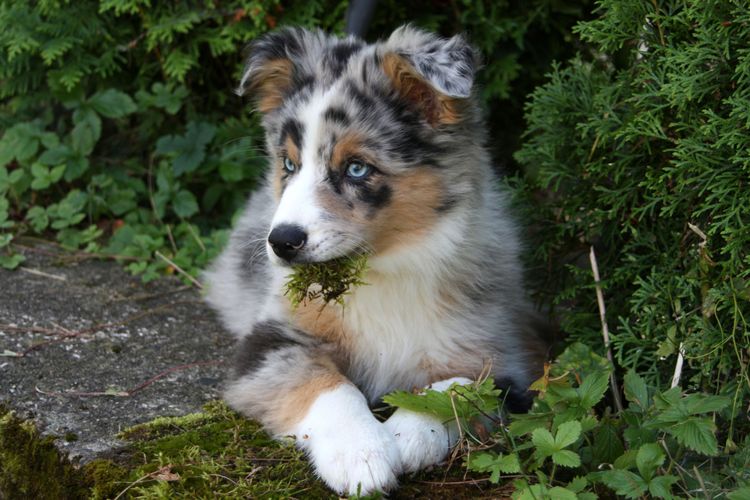 Banner: Shutterstock / Bilevich Olga