Facts & Origin
The Australian Bulldog, also known as the Aussie Bulldog, is a unique breed of dog that originated in sunny Australia. The creation of this breed began in the 1990s, when enthusiastic breeders aimed to develop a robust and versatile companion dog that would meet the demands of the Australian lifestyle.
Banner: Depositphotos / sgcallaway1994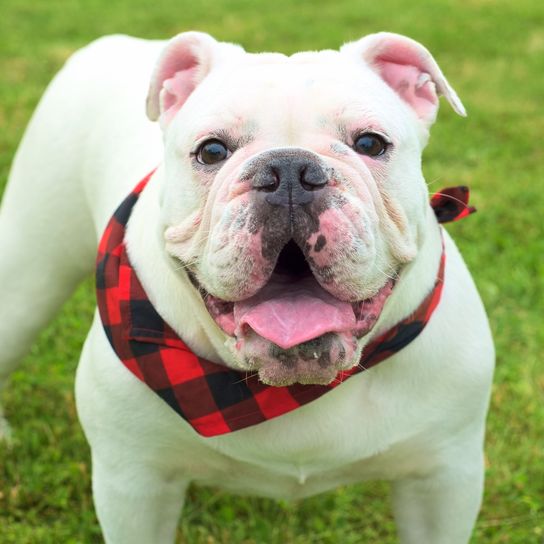 | | |
| --- | --- |
| Activity level | low |
| FCI group | not recognised |
| AKC group | not recognised |
| KC group | not recognised |
Attitude, character and temperament of the breed
Character traits and nature of the Australian Bulldog
The Australian Bulldog is a fascinating dog breed that delights with its endearing character and high intelligence. A loyal companion, the Aussie Bulldog exhibits a variety of remarkable traits that make it a perfect family dog.
The Aussie Bull is known for its balanced nature and close bond with its owners. These dogs are extremely loyal, affectionate and love to show affection. They are good natured, patient and therefore make excellent companion dogs, especially for families.
Their social nature often extends to children, and they are gentle and loving with them. With their patient nature, they are tolerant of children's playful behavior. Although they are friendly, they also possess a watchful and protective instinct. They defend their family and home and are good watchdogs, warning their owners when danger is imminent. Proper socialization is important to avoid overconfidence or aggressiveness. The Australian Bulldog builds a close relationship with its owners and often has a strong need for human companionship. They dislike being alone and are most comfortable around their family.
The Australian Bulldog is a hardy dog breed with few health problems. To ensure the health and well-being of your Aussie Bulldog, proper grooming and regular veterinary checkups are important.
Grooming the Australian Bulldog's short, thick coat is simple and only requires occasional brushing to remove dead hair. This also helps reduce loose fur and promotes skin health. Ears and eyes should be cleaned regularly to prevent debris and possible infection.
Dental health is also of great importance. Be sure to provide your dog with regular dental care to prevent tartar and dental problems. Offer your Australian Bulldog special dental care snacks or chews. These dogs are also particularly susceptible because they sometimes suffer from jaw misalignment.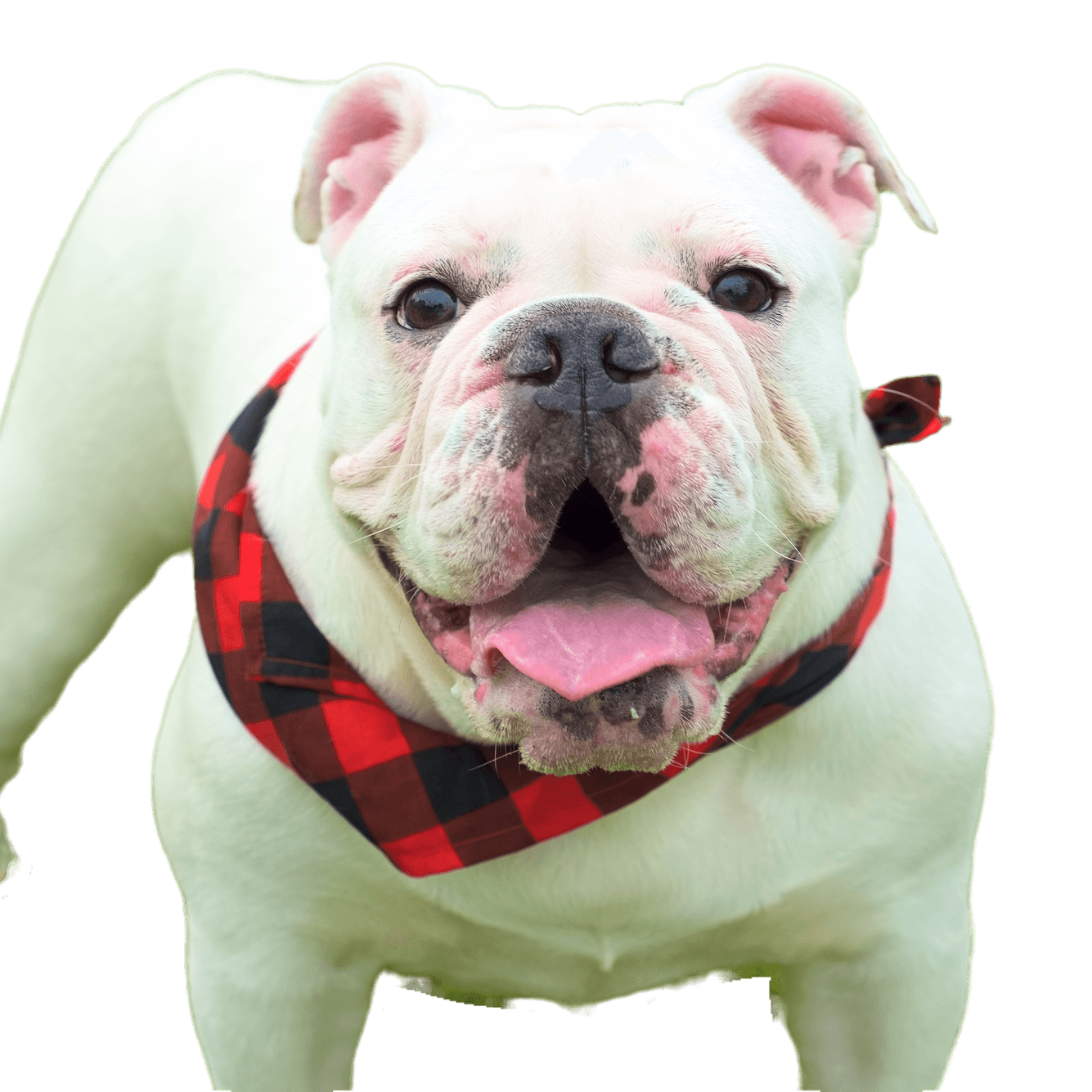 The Australian Bulldog - care, coat, appearance, size and weight.
The Australian Bulldog is a unique and charming dog breed that delights with its loving nature and rugged appearance. If you choose an Aussie Bulldog as a pet, it's important to provide proper care to ensure he lives a happy and healthy life.
Grooming the Australian Bulldog: Grooming the Australian Bulldog is comparatively straightforward. Regular brushing of the short, dense coat helps to remove dead hair and keep the coat in good condition. A weekly coat grooming is often sufficient. It's also important to check and clean your dog's ears and eyes regularly to prevent debris and possible infection. Teeth should also be cared for regularly to prevent dental problems. Provide a balanced diet and adequate exercise to keep your Australian Bulldog healthy and fit.
Coat and Appearance of the Australian Bulldog: The Australian Bulldog has a short, dense coat that can come in a variety of colors such as brindle, red, white or piebald. Its characteristic appearance is marked by its muscular build and broad head with prominent, wide-set eyes. The ears can vary, either naturally drooping or artificially cropped. The tail is usually short and straight.
Height and Weight: The size of an adult Australian Bulldog varies according to sex. Males usually reach a height at the withers of about 45-51 cm, while females are slightly smaller, reaching a height of about 43-49 cm. The weight of an adult male normally ranges from 27-32 kg, while females weigh about 25-29 kg.
Overall, the Australian Bulldog is a wonderful companion that takes hearts by storm with its friendly nature and charming appearance. With proper care and loving attention, you can ensure that your Aussie Bulldog lives a healthy and happy life by your side.
| | |
| --- | --- |
| Size ♀ | 48 - 44 cm |
| Weight ♀ | 28 - 23 kg |
| Size ♂ | 51 - 46 cm |
| Weight ♂ | 35 - 28 kg |
| Suitable For | - |
Colors