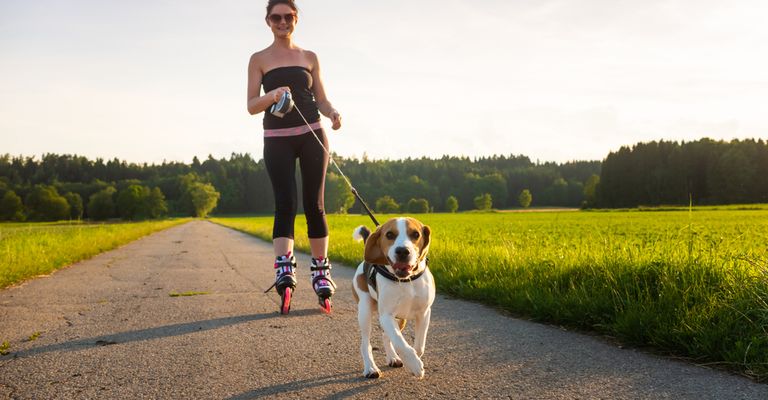 Dog ownership tips
04.12.2020
Roller skating or skateboarding with the dog
Is it allowed? How do I train it with my dog? Is it fun for him?
Roller skating or skateboarding with your dog
If cycling and walking with your four-legged friend has become too boring for you, inline skating or skateboarding might be just the thing for you. Maybe you've found an old skateboard in the basement and are eager to try it out. But before you get started, here are a few tips and tricks for you.
The equipment
Having the right equipment is essential to protect you and your dog from injuries and props. If you have old rollerblades or a skateboard, make sure to check them beforehand for function and load limit. The sporty accessories should be in good shape, and the wheels functional. Your dog also needs safe and comfortable equipment. If you don't already have one, it's best to buy a well-padded and well-fitting harness so that you don't have to constantly pull on your dog's neck. You should also try out which leash suits you and your dog best. Whether it is a short or long leash, a walking leash or a working leash, it is important that you get along well with it and that a good leadership of your dog is guaranteed.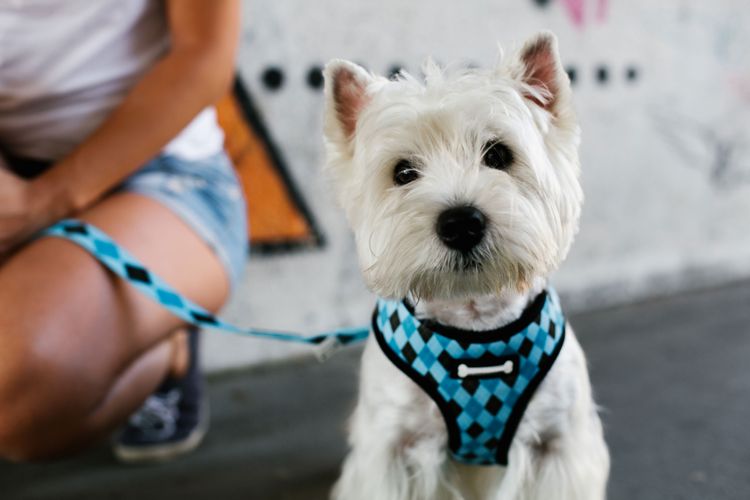 Absolutely take along
Once you've got your dog used to the situation and the blades or the skateboard, you're basically ready. But before you start, you should pack the most important utensils for your little trip. Preferably in a small shoulder bag or a backpack.
What you should take with you:
Poop bags
Treats
A big water bottle
A small water bowl for your four-legged friend
Mobile phone and keys
If you have decided on a long leash a short working leash to be prepared for any situation
Depending on the length of the route also a snack for you
What you should pay attention to
It is important that you slowly get your dog used to skateboarding or inline skating. Skateboarding with a dog can be a real challenge at first. You should also find out which routes are suitable for your sporting excursion. Normally there are bike paths for skaters and inline skaters, but it is recommended that you choose paths with as little traffic as possible until the skating works really well and your dog already knows the routine.
Guidance of the dog
Roller skating with a dog requires that your dog can be led well by you and listens to certain commands, or easily learns new ones. Commands like "slow", "heel" and "stand" should be well implemented by the dog, so that you are a safe team on the road. The better you get used to the new situation together and the more you communicate with your dog, the more relaxed the trip will be.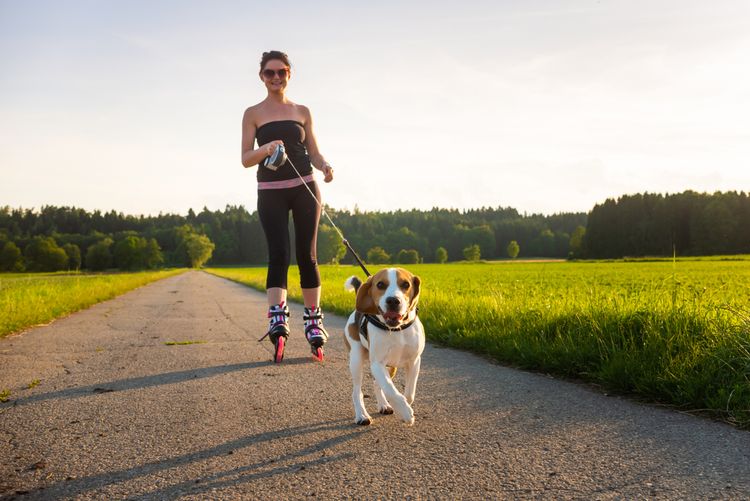 Breaks are mandatory
What applies to all sporting activities also applies here. Breaks are mandatory. Rollerblading with a dog can be very tiring, especially when it comes to higher speeds. If you're running out of breath, better take a break. Treat yourself to a snack and drink enough. If your dog slows down or pants excessively, give him a break too. It's handy with small dogs that you can carry them. But be careful, if you have your dog in your arms, you should drive a little slower.
Banner: Shutterstock / Przemek Iciak
Author

Sissi is a blogger since 2014, came on the dog 2018. Since then she struts daily her 10000 steps with Loki through the world. The Beagdor (Labrador-Beagle mix) is a therapy dog for children and also accompanies her to schools. Secretly she fancies a French Bulldog as a second dog.
Subscribe to our newsletter
to stay up to date on dog trends.
We won't spam your inbox! We won't sell or rent your email address.
To find out more, view our
Privacy Policy