Facts & Origin
PROFILE: Vizslamann - The fascinating mixture of Magyar Vizsla and Doberman.
The Vizslamann combines the elegant and historical heritage of two renowned breeds: the Magyar Vizsla and the Doberman. He is an impressive dog, suitable for both work and family. With proper training and a loving but consistent leadership style, he will prove to be a loyal and reliable companion .
His suitability for active families and his adaptability make him a popular choice for many dog lovers. It is important to meet his needs for activity and mental stimulation to ensure a happy and healthy life.
Origin of the parent breeds
The Magyar Vizsla, proud heir of Hungarian history, was originally bred for hunting because of its excellent tracking and retrieving abilities. The Doberman , on the other hand, developed in Germany in the late 19th century, was considered a guard and protection dog.
Banner: Stephanie Schatz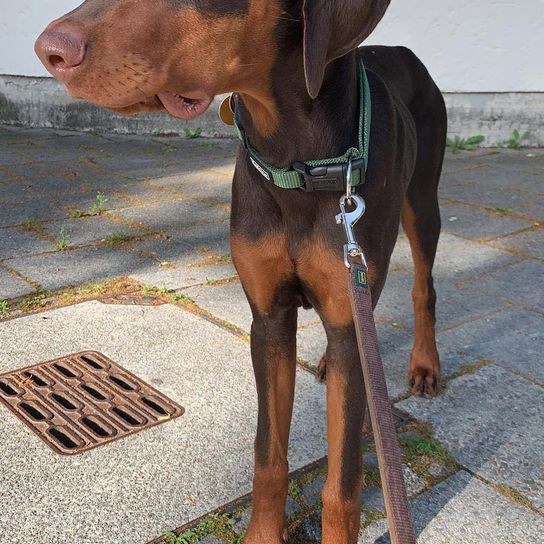 | | |
| --- | --- |
| Activity level | average - average to high |
| FCI group | not recognised |
| AKC group | not recognised |
| KC group | not recognised |
Attitude, character and temperament of the breed
Character traits of the Vizslamann

A mix of these breeds results in a dog with a diverse temperament. The Vizslamann can display both the loyal and sensitive nature of the Vizsla and the alert and courageous side of the Doberman. They are often intelligent and eager to learn, which makes training easier. Their loyalty to their family is remarkable, and they tend to form strong bonds with their owners.
Suitability and attitude
The Vizslaman is particularly suited for:
Active Households: This mix has high energy and needs regular exercise and mental stimulation.
Dog sports: their intelligence and drive make them good candidates for agility, obedience, and even Schutzhund training.
Experienced Dog Owners: Due to the strong personalities of both breeds, first-time dog owners may find it challenging.
Care and health
With their short and dense coats, they are relatively easy to care for. A weekly brushing will help remove dead hair and keep the coat shiny. It is advisable to watch out for possible health problems that can occur in both breeds, such as hip dysplasia or heart problems. Regular visits to the vet are essential.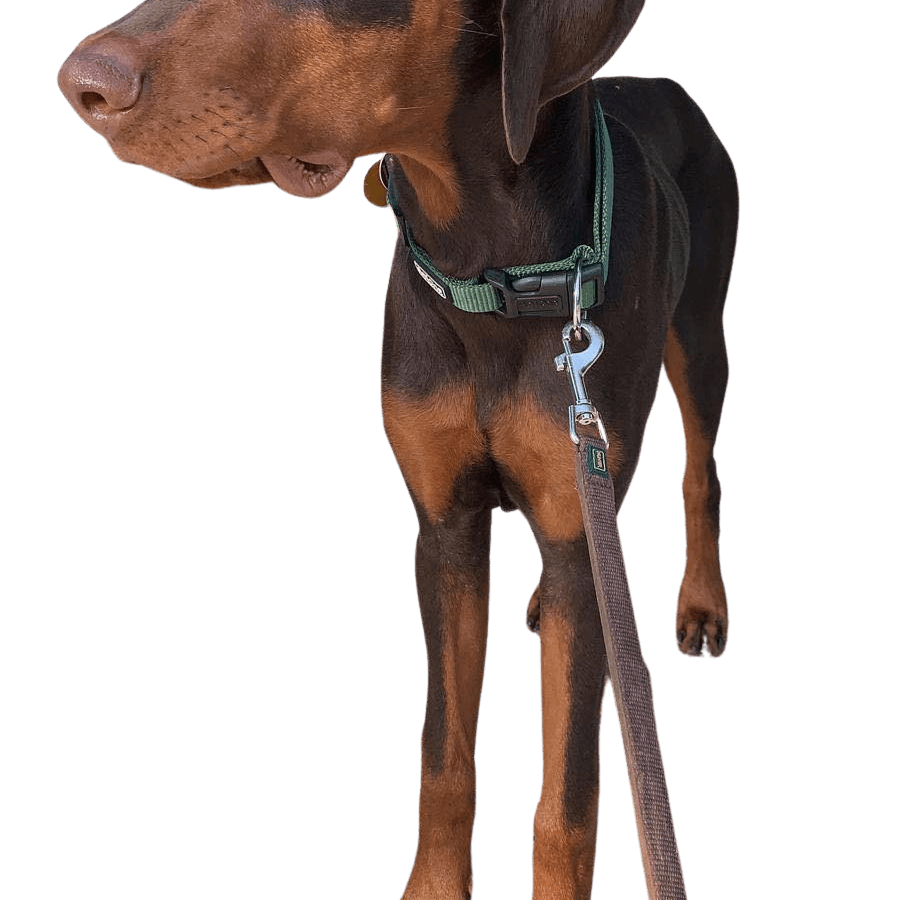 What does this mongrel look like?
The appearance of the Vizslaman can vary, but many expect a combination of the slender, muscular body of the Vizslas and the strong and imposing presence of the Doberman. Coat color can vary, with warm reds and browns of the Vizslas or the classic black and tan tones of the Doberman.
| | |
| --- | --- |
| Size ♀ | 53 - 68 cm |
| Weight ♀ | 18 - 45 kg |
| Size ♂ | 56 - 72 cm |
| Weight ♂ | 20 - 35 kg |
| Suitable For | - |
Known Diseases
Hypothyroidism

Hypothyroidism is a condition in dogs where the thyroid gland does not produce enough thyroid hormones. This can lead to a slowed metabolic rate, weight gain, fatigue, hair loss and other symptoms.

Hip dysplasia (HD)

Hip dysplasia (HD) is a genetic condition in dogs where the hip joint is not shaped properly. This leads to pain, stiffness and restricted movement.

Wobbler syndrome

In veterinary medicine, this is the name given to a complex of symptoms caused by nerve damage in the area of the spinal cord or spinal cord nerves in the area of the cervical spine.

Blue Doberman Syndrome

Blue Doberman Syndrome (Alopecia). This is a hereditary disease that leads to progressive hair loss.

Dancing Doberman Diseas

Initially, there is only bending of the legs, which is caused by muscle failure. In the advanced stage, the disease then leads to paralysis.

Ataxia

Ataxia (from Greek ἀταξία ataxia 'disorder' 'irregularity') is a generic term in medicine for various disorders of movement coordination. Ataxia can occur even when there is no paralysis (paresis), that is, when there is normal muscle strength.

Heart disease

Can occur frequently in dogs and can sometimes be treated with medication.
FAQ
A Vizslaman is an intelligent, active and loyal hybrid breed that possesses the characteristics of both parent breeds. They can be very attentive and protective.

Magyar Vizsla and Doberman crossbreeds can usually live up to 10 years.

Yes, they make great family dogs. They are very kind and loyal and usually develop a close relationship with their family.

No, with good training and consistent training, you can raise a Magyar Vizsla and Doberman mongrel without any problems.