Facts & Origin
The Labradoodle is a hybrid dog that is the result of crossing a Labrador and a Poodle. Although not officially recognized as such, the Labradoodle has gained great popularity in recent years. Its roots lie in the late 1980s, when Wally Conron first crossed the two breeds. Conron's goal was to breed a guide dog for allergy sufferers that would combine the best qualities of both parents: the Labrador's character and friendliness, and the Poodle's intelligence and low-hair coat.
A hybrid with special characteristics
The result of this cross is a charming, intelligent and friendly dog that is excellent as a family dog and companion dog. The Poodle's low shedding coat also means the Labradoodle is often better tolerated by people with allergies. The following characteristics particularly distinguish the Labradoodle:
Friendliness and adaptability
Intelligence and willingness to learn
Little hairy coat
Suitable for allergy sufferers
Efforts for recognition as an own breed
In Australia, there are currently efforts to establish the Labradoodle as its own breed and to have it recognized - under the name Australian Labradoodle. Until then, however, he remains a hybrid dog, which nevertheless arouses great interest among many dog lovers.
Banner: Shutterstock / Eric Isselee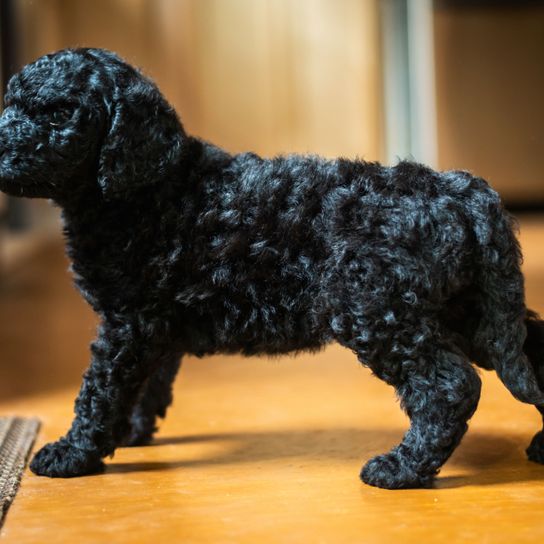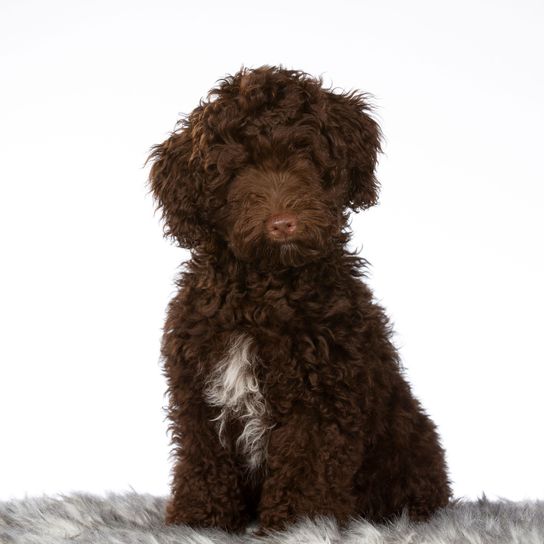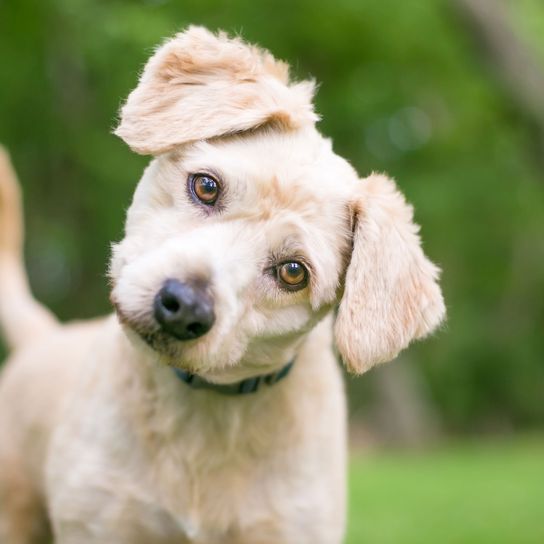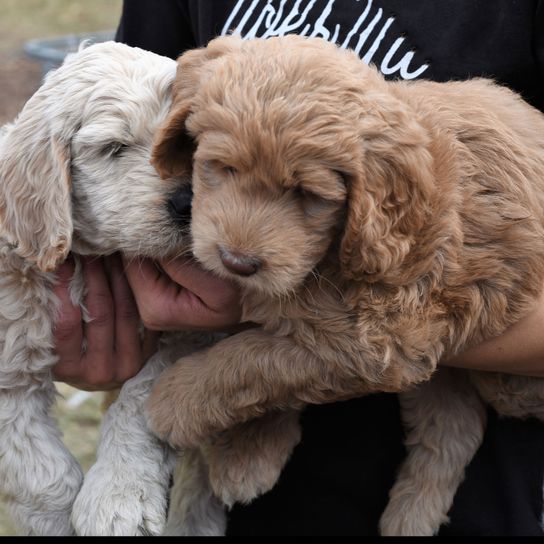 | | |
| --- | --- |
| Activity level | average - high |
| FCI group | not recognised |
| AKC group | not recognised |
| KC group | not recognised |
More Labrador Retriever mixes
Attitude, character and temperament of the breed
The ideal family dog: Labradoodle character and temperament.
The Labradoodle is characterized by its friendly and outgoing nature. His character is characterized by strong social skills and a high degree of adaptability, which make him the ideal family dog. He is a loyal companion who gets along well with both children and other pets.
Some important character traits of the Labradoodle are:
Cheerful and playful
Patient and gentle
Devoted and loyal
Quick perception
Attitude of the Labradoodle: Demands and needs
The Labradoodle is an active and intelligent dog that wants to be challenged both physically and mentally. Therefore, it is important to provide him with varied employment opportunities. Here are some tips for successfully keeping a Labradoodle:
Sufficient exercise: Long walks, dog sports like agility or fetch are ideal for keeping the Labradoodle physically exercised.
Mental challenge: Intelligence toys, search games, or learning tricks help keep the Labradoodle mentally challenged.
Social Interaction: The Labradoodle is a very social dog that needs regular contact with people and other dogs to be happy.
Grooming: his coat should be brushed and groomed regularly to prevent matting.
Adaptable and balanced
Thanks to his even temperament, the Labradoodle can adapt to a wide variety of living conditions. Although he is happiest in a house with a garden, he can also adapt well to living in an apartment as long as he gets enough exercise and activity.
Overall, the Labradoodle is a loving and adaptable family companion with an even temperament. If kept in a species-appropriate manner and given loving attention, he will become a loyal and happy member of the household.
The right training: fun and variety
The Labradoodle is intelligent and eager to learn, which is why varied and playful training is ideal for him. Here are some tips to make training successful:
Positive reinforcement: rewards such as treats or praise support the learning process and strengthen the bond with the dog.
Short training sessions: Keep exercise sessions short and interesting to keep the Labradoodle's attention.
Variety: offer different types of training, such as obedience, tricks or dog sports.
With a patient and consistent approach, training the Labradoodle will be a success and bring joy to both parties.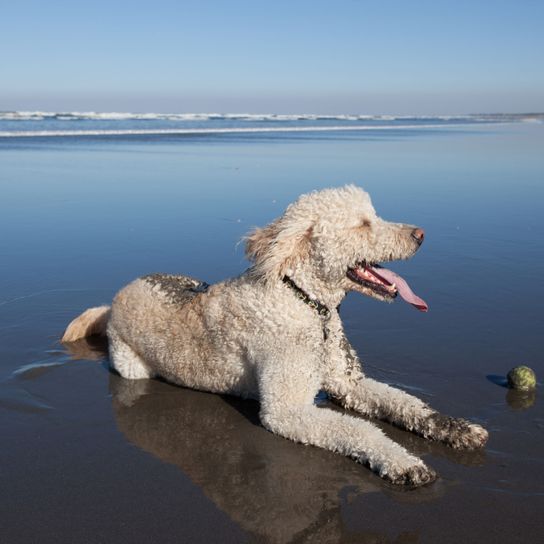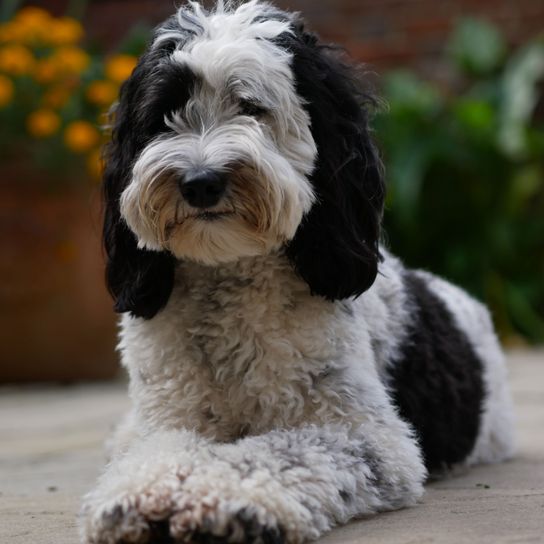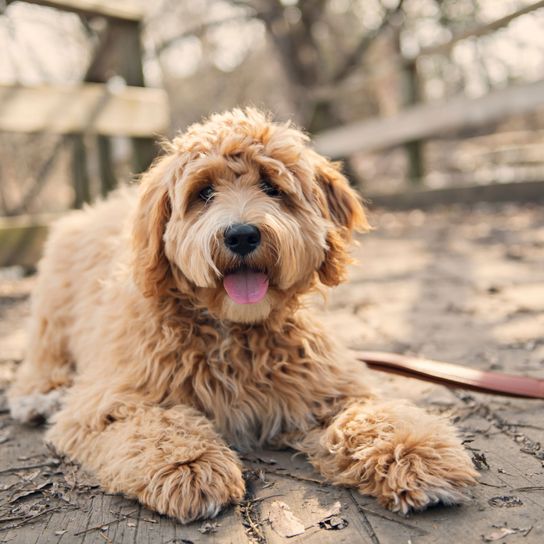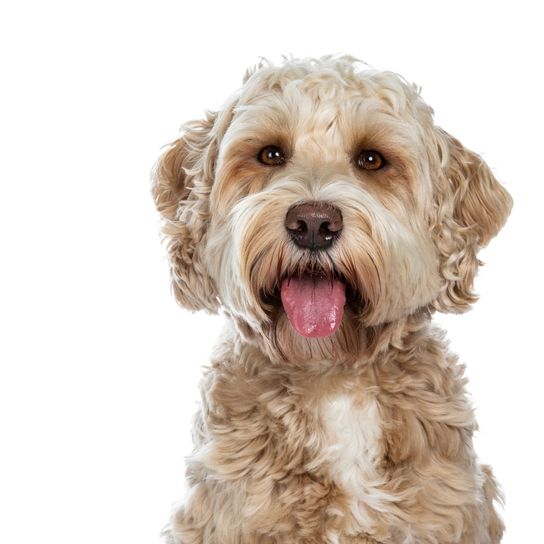 Health of the Labradoodle
Although the Labradoodle is considered relatively healthy as a hybrid breed, it is prone to certain diseases due to its ancestry from the Poodle and Labrador. These include eye and joint disorders as well as:
Exercise Induced Collapse (EIC).
Progressive Retinal Atrophy
Entropion
Cardiomyopathy
Despite these potential health problems, the Labradoodle has an average life expectancy of 12 to 15 years.
Labradoodle purchase: what to consider
When buying a Labradoodle, it is important to pay attention to the health of the parents. Ask to see the papers and make sure they are free of eye and joint diseases and are suitable for breeding. Allergy sufferers should also get to know the individual dog and check for possible allergy symptoms.
Because the Labradoodle is known for its hypoallergenic qualities, it is one of the more expensive breeds. A puppy can cost up to 2500 euros.
Conclusion: A healthy companion with special requirements
The Labradoodle is a generally healthy and long-lasting companion. However, when buying it is important to pay attention to the health of the parents and possible allergy symptoms. With responsible breeding and attentive health care, the Labradoodle will become a loyal and healthy family member.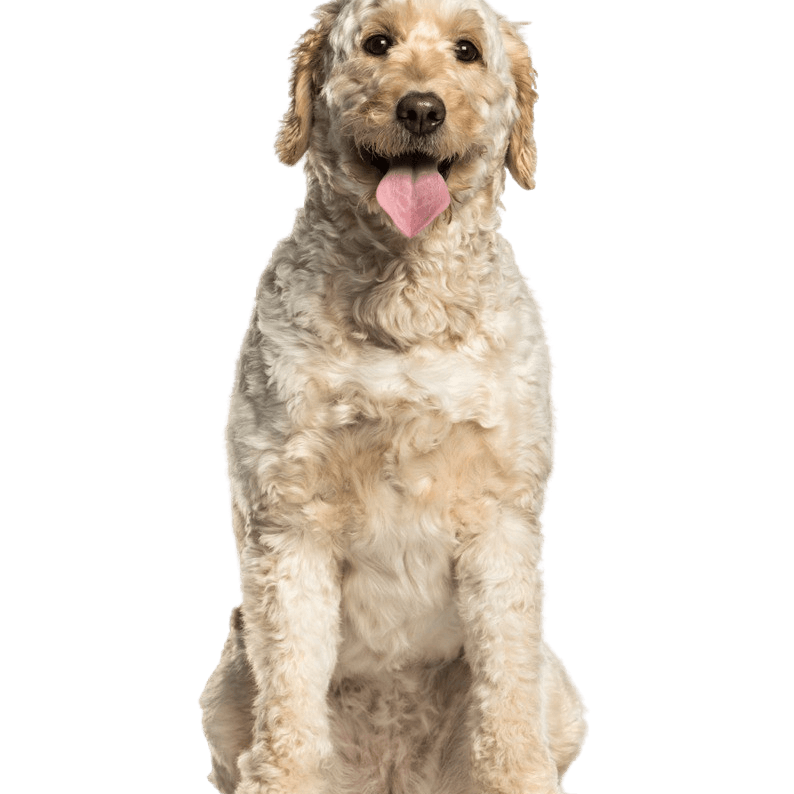 Appearance & physique of a Labradoodle
Size and weight
An adult Labradoodle typically has a weight of 23 to 35 kg and a shoulder height of 53 to 65 cm. However, these values vary, depending on the size of the parents and their respective breed affiliation (Standard or Miniature Poodle).
Colorfulness and coat texture
The Labradoodle is characterized by a wide variance in its appearance. His coat color ranges from cream to golden blond to black, so each dog has its own unique charm. Equally varied is the Labradoodle's coat texture, which can range from curly, wire haired, wavy to smooth. These differences come from the different combinations of the parents.
Grooming Requirements: Individual requirements
Because of the different coat types, the Labradoodle's grooming needs also vary. While some dogs may only require regular brushing, others may require regular shearing to prevent matting and skin problems. Therefore, it is important to recognize the individual needs of each dog and act accordingly.
Conclusion: The unique charm of the Labradoodle
The appearance and physique of a Labradoodle are characterized by an impressive variety that gives each dog a unique appearance. Proper grooming and an eye for individual needs help to ensure that the Labradoodle feels comfortable in its coat and can display all its beauty.
Colors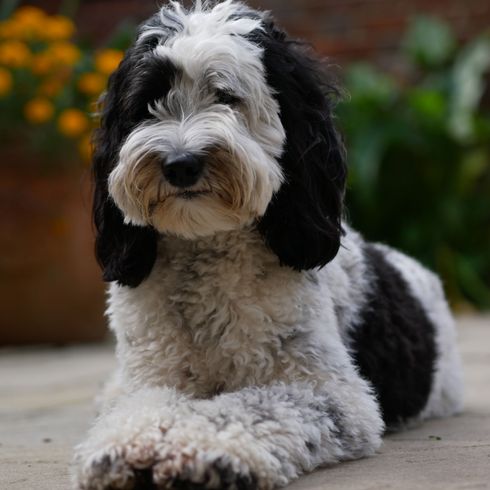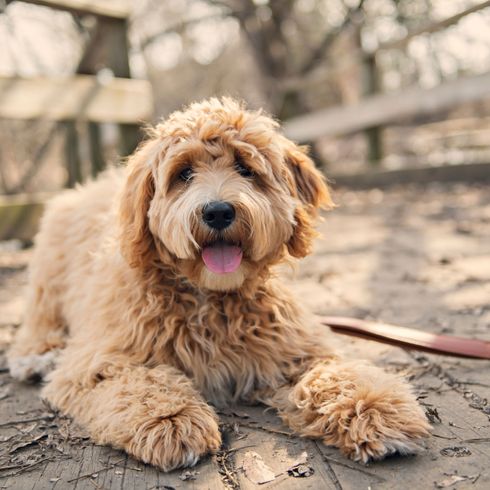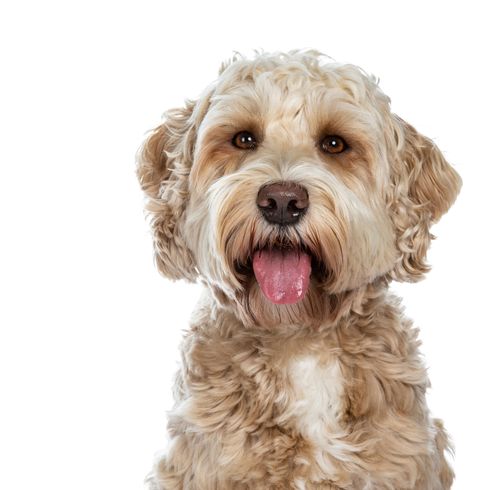 Known Diseases
Hip dysplasia (HD)

Hip dysplasia (HD) is a genetic condition in dogs where the hip joint is not shaped properly. This leads to pain, stiffness and restricted movement.

Elbow dysplasia (ED)

Elbow joint dysplasia is a chronic disease complex of the elbow joint of fast growing dog breeds.

Eye diseases

Often occur with allergies and intolerances.

Overweight

Often, unfortunately, the dogs very much under excess weight. But the dogs themselves are never to blame!

Joint damage

In some breeds, joint damage can occur later in life, affecting the musculoskeletal system.

Epilepsy

Definition: Dog has epilepsy if, for example, at least two epileptic seizures occur more than 24 hours apart.

Cataract

Cataracts are still one of the most common causes of blindness, even in dogs.

Progressive Retinal Atrophy (PRA)

Progressive retinal atrophy (PRA) is a slowly progressive death of the retina in dogs.

Patellar problems

Problems with the Patellar can be a displacement or weak kneecap, which is one of the most common causes of lameness in dogs, also because of overweight.
FAQ
This is a very individual question, which can not be answered so simply. At most, an adult and trained Labradoodle should stay alone for 3-6 hours.

A Labradoodle, like a Labrador, needs a few hours of exercise and mental training daily.

They are considered hypoallergenic because they are a mixture with 50% poodle. However, many people are allergic to saliva and not the hair that falls out.

Labradoodle hair very little because they are hybrid mixes and the poodle as a non-haired breed is 50% of the genetic material.

A Labradoodle can cost up to 2500 euros. The price often varies greatly.

As a hybrid dog, the Labradoodle is generally healthier than purebred dogs. Nevertheless, you can find diseases that can be inherited from the parents.

Yes, the Labradoodle is suitable for various dog sports.

The Australian Labradoodle is an attempt to have the Labradoodle recognized as a breed.