All poodle mongrels at a glance
Poodle mixes are known for their intelligence, beauty, and affection, and are suitable for a variety of people and lifestyles. Whether people are looking for a loyal companion, an athletic companion, or a cuddly pet, a Poodle mix can be a great choice. They are considered especially popular for allergy sufferers and shed less than other hybrid dogs.

Show details
Poodle hybrids - Charming and versatile family companions.
In the dog world, there is a growing enthusiasm for so-called "hybrid" dogs, especially those created by crossing them with a poodle. These mixed breeds are not only charming, but also offer a variety of benefits to their owners. This page will introduce the most popular Poodle mixed breeds, explain their benefits, and point out which people are the best match for them.
Some of the best known Poodle mixed breeds are:
Labradoodle (Labrador Retriever x Poodle)
Goldendoodle (Golden Retriever x Poodle)
Cockapoo (Cocker Spaniel x Poodle)
Schnoodle (Schnauzer x Poodle)
Yorkipoo (Yorkshire Terrier x Poodle)
Maltipoo (Maltese x Poodle)
Sheepadoodle (Old English Sheepdog x Poodle)
Bernedoodle (St. Bernard x Poodle)
Aussiedoodle (Australian Shepherd x Poodle)
Havapoo (Havanese x Poodle)
Advantages of these dogs:
Hypoallergenic Coat: One of the main reasons why Poodle crossbreeds are so popular is because of their mostly hypoallergenic coat. Due to crossbreeding with Poodles, many of these mixed breeds inherit the curly, low-hair coat that is more suitable for allergy sufferers.
Versatility: Poodle crossbreeds come in a variety of sizes, coat types, and personalities, so they adapt well to different lifestyles and needs.
Intelligence: Poodles are known for their intelligence and ability to learn. These traits are often passed on to their mixed breed offspring, making them easy to train and pleasant to handle.
Family Friendliness: Many Poodle mixes are friendly, loving and social, making them excellent family dogs.
What people they are best suited to:
Families: Poodle mixes are often great for families, as they are adaptable, friendly, and loving.
Allergy sufferers: people who suffer from dog hair allerg ies may benefit from a Poodle mix, as their coats are usually less allergenic.
First-time dog owners: Poodle mixes are often easy to train and adaptable, making them a good choice for first-time dog owners.
Active people: Since many Poodle mixes are intelligent and energetic, they are a good fit for people who like to be active and involve their dog in various activities.
5 Essential Points When Thinking of Getting a Poodle Mongrel in the Family.
Poodle mixes are a popular choice among dog owners all over the world. These charming and intelligent animals combine the best traits of their parent breeds into a unique package. Here are five benefits that make Poodle mixed breeds a great choice for many people:
Intelligence: Poodles are considered one of the smartest dog breeds, and their mixed breeds often inherit those smart genes. This makes them easier to train and foster, leading to a close bond between dog and owner.
Beauty: Poodles are known for their soft, curly coats and attractive colors and patterns. Many Poodle crossbreds inherit these traits, making them very appealing.
Attachment: Poodles are known for their loyalty and close relationship with their owners. Many Poodle mixes exhibit these traits as well, making them loyal and affectionate companions.
Versatility: Because Poodle mixes come from a variety of breeds, there is a wide variety of sizes, shapes, and abilities. This means that there is a Poodle mix for every need and lifestyle.
Ease of Care: Poodles have a long, curly coat, but it is easy to groom. Many Poodle mixes inherit this trait and are therefore easy to groom, which is especially beneficial for people with little time or without much experience with dog grooming.
Overall, Poodle mixes are an excellent choice for people looking for an intelligent, beautiful, and affectionate dog. Whether you want an athletic companion or a cuddly pet, there's a Poodle mix that's a perfect fit for you.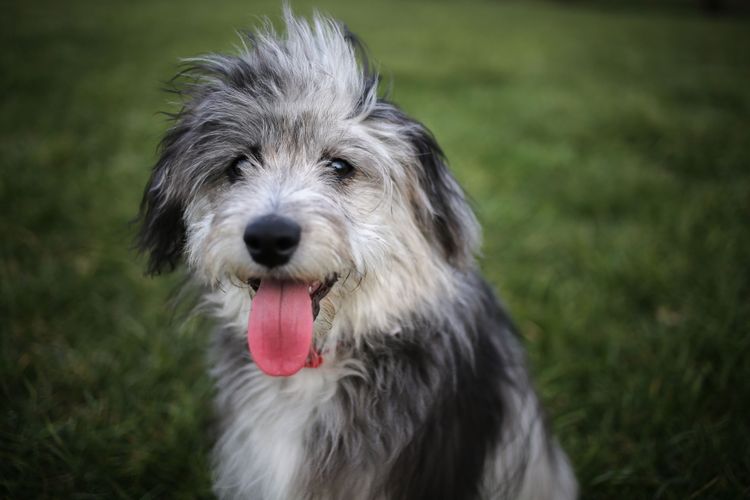 Shutterstock / Holly Anne Cromer
There are several reasons why Poodle mixes are so popular:
Hypoallergenic traits: many Poodle mixes inherit the Poodle's hypoallergenic coat, making them a great choice for allergy sufferers.

Variety of sizes: Poodle mixes come in a variety of sizes, from small to large, depending on which breed was crossed with the Poodle. This makes them attractive to people who prefer a certain size.

Personality: Poodle mixes often have a unique personality that is a combination of traits from both breeds. They can be friendly, loving, playful and loyal, making them great companions for people of all ages and life situations.

Appearance: Poodle mixes often have a unique appearance that depends on the breed they are crossed with. Many people find them very attractive because of their striking and unusual appearance.
Overall, Poodle mixes are very versatile dogs that are popular with many people because of their characteristics and appearance.
The most unusual Poodle mixes are hard to define, as there are many unusual combinations. However, some examples could be the Dalmadoodle (Dalmatian + Poodle), the Boxerdoodle (Saint Bernard + Poodle), the Shepadoodle (German Shepherd + Poodle) or the Pomapoo (Pomeranian + Poodle). Each mix has its own unique characteristics and traits that make it a unique companion. The beauty of Poodle mixes often lies in their unique appearance and personality, which is a combination of the characteristics of both breeds. Many Poodle mixes also inherit the Poodle's hypoallergenic coat, which can be a great relief to those with allergies. They can also be very intelligent, loyal, loving and playful and often make great companions for people of all ages and life situations.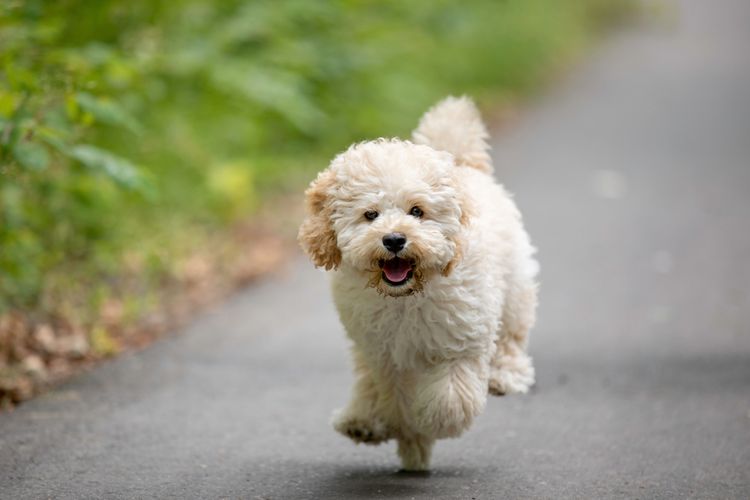 Shutterstock / Rita Petcu
Sandys Wauzi Paradies
Subscribe to our newsletter
to stay up to date on dog trends.
We won't spam your inbox! We won't sell or rent your email address.
To find out more, view our
Privacy Policy