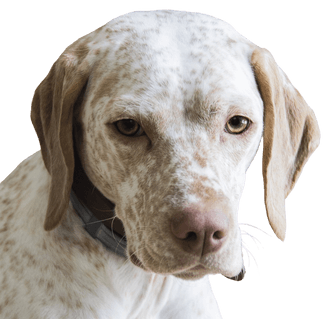 Braque du Bourbonnais
Breed description: Character & Co
Facts & Origin
General information about the Braque du Bourbonnais
The Braque du Bourbonnais is a French dog breed and is recognized by the FCI. It is assigned to FCI group 7 and section 1.1, under standard number 179. This dog breed is still used today as a pointing dog, but is also kept as a companion dog. The temperament of these dogs is very level-headed and calm. If you are looking for an affectionate and athletic dog, this is the breed for you. The Braque du Bourbonnais grows between 48 and 57 cm tall, with a maximum weight of 25 kg. The strong and elegant dogs can be found in shades of white, red and brown.
Origin and history of the pointing dog from France
The name of this breed can be traced back to the French region of Bourbonnais, which used to be a French province. Today, cities such as Saint Etienne and Lyon are located in this area. This breed was historically mentioned for the first time in 1598, on a woodcut by the doctor and naturalist Ulisse Aldrovandi from Italy. This wooden image depicts a dog of this species, with a short stubby tail and a short back adorned with a trout pattern. The picture is called "Dog of Bourbonnais hunting quail". Breeders tried to keep the Braque du Bourbonnais breed alive, but eventually Pointer and German Shorthair had to be crossed in to keep the breed alive. This was only partially successful and the breed was once again threatened with extinction by the breeders' strict selection. Since 1970, the Braque du Bourbonnais has been stably bred.
Banner: Shutterstock / Aiste Stankeviciute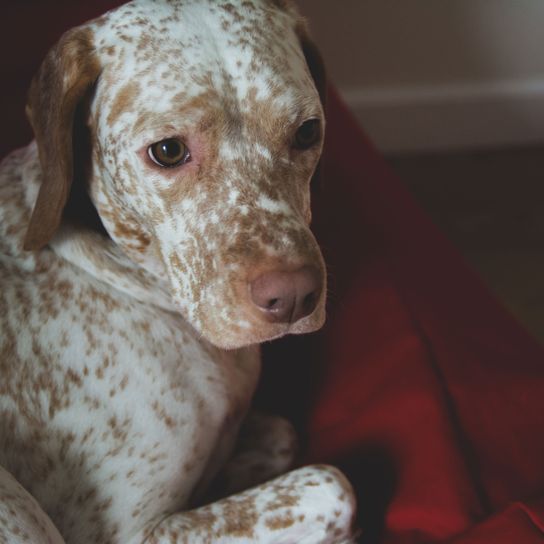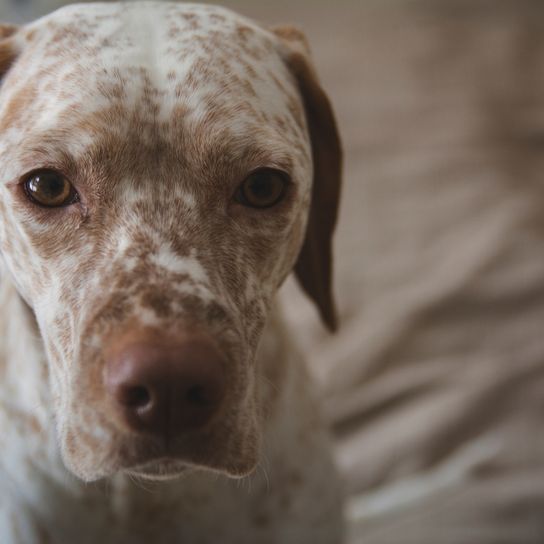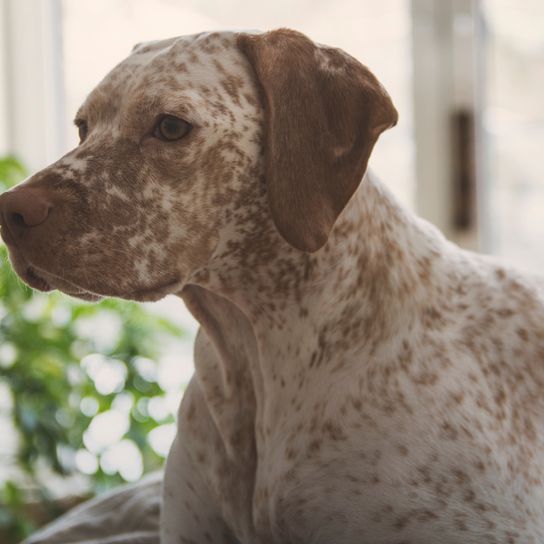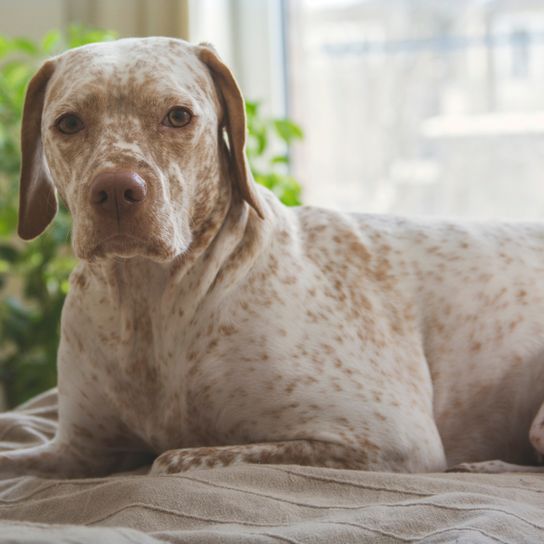 | | |
| --- | --- |
| Alternate Name | Bourbonnais Pointer |
| Origin | France |
| Life expectancy | 10 - 13 years |
| Care requirements | low-maintenance |
| | |
| --- | --- |
| Activity level | high |
| FCI group | Continental Pointing Dogs |
| AKC group | Foundation Stock Service |
| KC group | Gundog Group |
Attitude, character and temperament of the breed
The nature of the Braque du Bourbonnais
The Braque du Bourbonnais is an extremely balanced and happy dog. If you train with your dog, you will notice how adaptive and attentive this breed is. The Braque du Bourbonnais can make a loyal companion and an excellent hunting partner. If you are looking for a family dog, this French pointing dog is also a good choice. While the Braque du Bourbonnais needs a lot of exercise, its disposition is one of gentleness, open-mindedness, and affection.
Husbandry and use
When it comes to keeping the Braque du Bourbonnais, there is little to look out for, only one thing is very important: enough exercise. If you have a full-time job, travel a lot, and are rarely home, this breed is not for you. The Braque du Bourbonnais is very loyal and can form a very close bond with you as the owner. While she is good at being left alone, your dog will not be happy with this in the long run. Here are a few ideas on how to keep the Braque du Bourbonnais busy and challenged:
Training and use as a hunting dog
Popular sports or agility
Long walks and search games in nature
Tracking training
The attendance of different companion dog courses
Obedience
Flyball
Training as a rescue and protection dog
Character
affectionate
balanced
intelligent
nice
quietly
Usage
Watchdog
Hunting Dog
Family Dog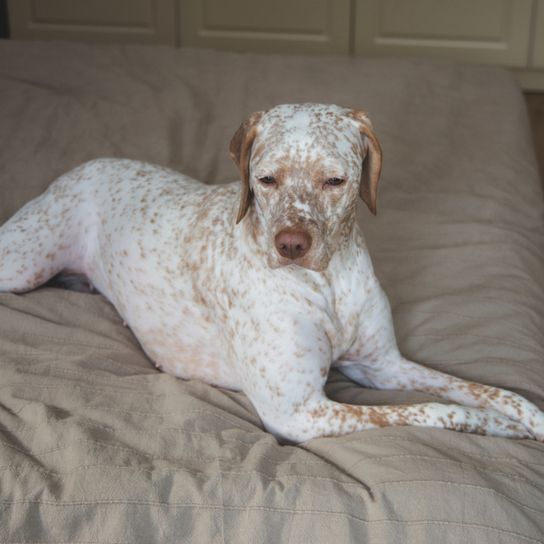 Health and breeding information
Breeding and purchase
If you want to buy a Braque du Bourbonnais, you should turn to a serious and recognized breeder. You will find some breeders listed in the VDH. Also organizations like Braque du Bourbonnais in Not mediate again and again the pretty Frenchies. Listen also in animal shelters in your environment around.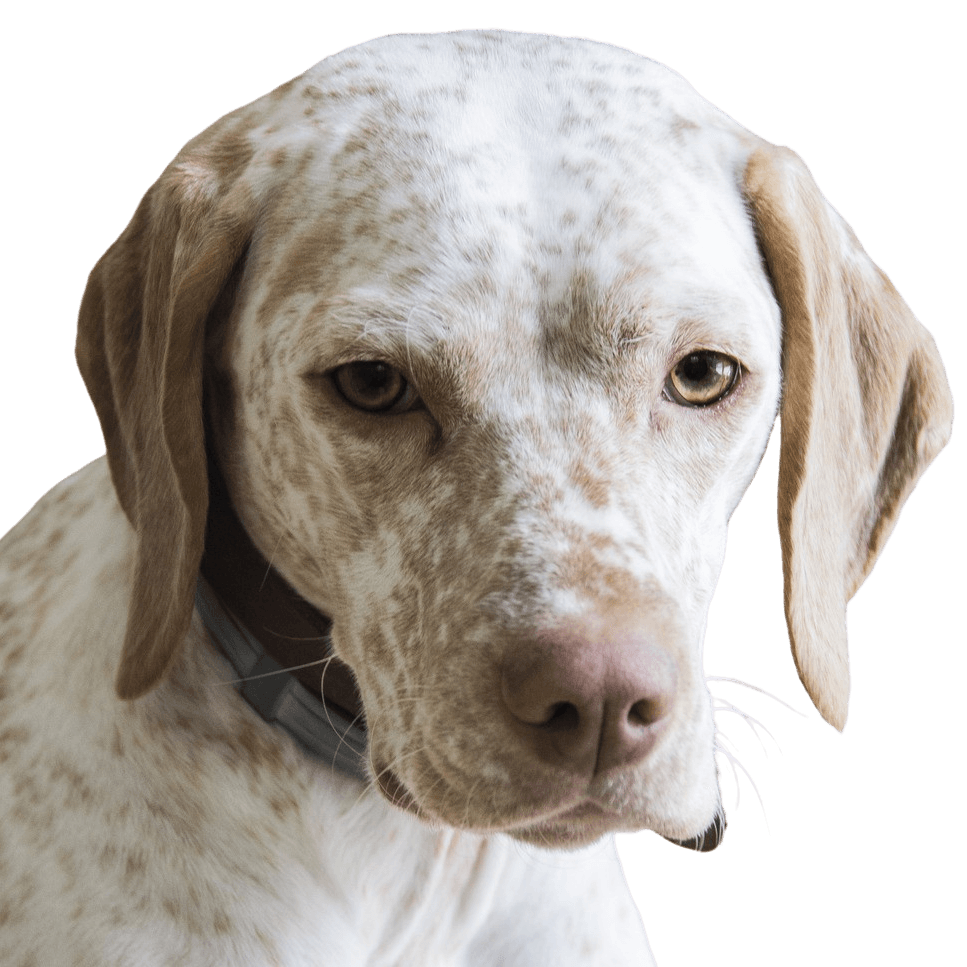 Description of the Braque
A special feature of the Braque du Bourbonnais is its innate stubby tail. Unfortunately, due to historical crossbreeding with other breeds, this characteristic has been lost in many cases, which is why the tail is now often docked. The coat of the Braque du Bourbonnais is either orange mottled or brown mottled and can take on a variety of piebalds and patterns. Very popular and typical for the Braque du Bourbonnais is the trout pattern. Breeders also always make a point of breeding the breed's coat as pale as possible. The coat emphasizes a physique that is strong and elegant at the same time.
| | |
| --- | --- |
| Fur length | short |
| Fur | flat coated |
| Ear shape | Floppy Ear |
| Tail | stubby |
| Anatomy | sporty |
| | |
| --- | --- |
| Size ♀ | 48 - 55 cm |
| Weight ♀ | 16 - 22 kg |
| Size ♂ | 50 - 58 cm |
| Weight ♂ | 18 - 25 kg |
| Suitable For | |
Colors