Facts & Origin
The Goldendoodle as a hybrid breed
The Goldendoodle is a hybrid dog that was created by crossing a Golden Retriever and a Large Poodle. Breeding of this mixture began in the mid-1990s in the USA, with the aim of creating a breed for allergy sufferers, combining the positive qualities of both parent breeds. Despite its popularity and continuous breeding, the Goldendoodle is still not officially recognized as a separate breed.
Special characteristics of the Goldendoodle
The Goldendoodle is characterized by a combination of the best features of its parent breeds:
Friendly character: the Goldendoodle is a loving and affectionate family dog.
Intelligence: both the Golden Retriever and the Poodle are known for their intelligence, which is reflected in the Goldendoodle.
Lower Allergen Exposure: Because of the crossbred coat, the Goldendoodle tends to release fewer allergens than many other breeds.
Goldendoodle: A fascinating family companion
The Goldendoodle is an attractive, intelligent and friendly dog that makes a good family companion. Despite its lack of official recognition, it enjoys great popularity and has established itself as a loyal and loving companion for people with and without allergies.
Banner: Shutterstock / Brian Zanchi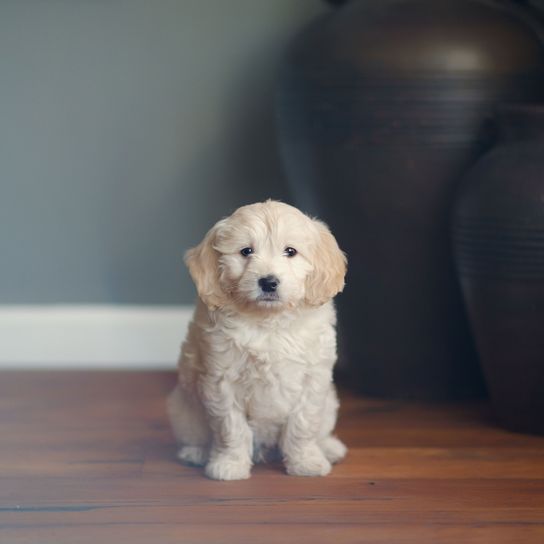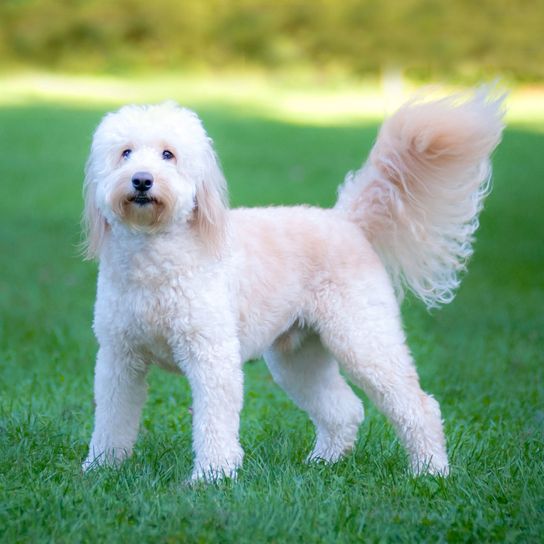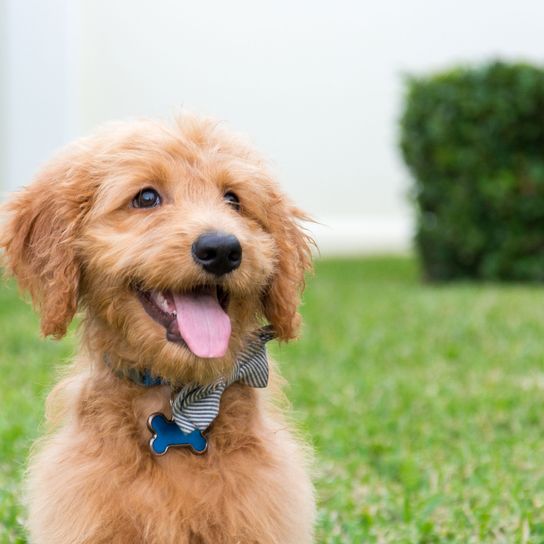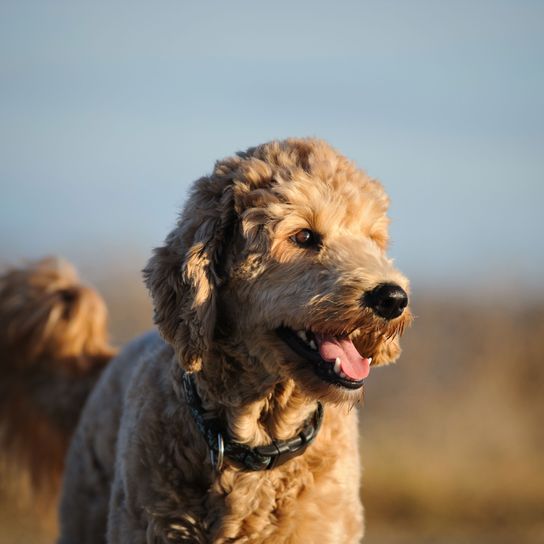 | | |
| --- | --- |
| Activity level | average - high |
| FCI group | not recognised |
| AKC group | not recognised |
| KC group | not recognised |
Attitude, character and temperament of the breed
Suitability and attitude of the Goldendoodle
The Goldendoodle is known as a hypoallergenic breed, however this designation is controversial. To determine if an allergy sufferer can live with a Goldendoodle, an individual test is required.
The Goldendoodle is mainly kept as a companion dog and is especially popular with families. Thanks to its intelligence and active nature, it is also excellent for dog sports. In addition, the Goldendoodle is used as a rescue, guide or disabled companion dog.
Characteristics of the Goldendoodle
The Goldendoodle is characterized by its balanced and people-friendly nature, which is due to the combination of the Golden Retriever and the Poodle. He is an extremely docile and active companion who can easily live with smaller children and other animals. With sufficient, meaningful and intelligent activity, the Goldendoodle has little tendency to be naughty.
Since both parents are known for their love of water, the Goldendoodle often shows a preference for the element as well.
The right training for the Goldendoodle: Smart and Motivated
The Goldendoodle is intelligent and eager to learn, which is why varied and positive training is essential. Early socialization and learning basic commands are important to build a good bond and avoid undesirable behavior. Use positive reinforcement and reward desired behavior with treats or praise.
The Goldendoodle is great for various dog sports such as agility or obedience. In doing so, the shared activity promotes bonding and keeps the dog physically and mentally fit.
Conclusion: The Goldendoodle as a versatile and loving companion
The Goldendoodle is an ideal family dog, characterized by its intelligence, adaptability and friendly temperament. Whether as a companion dog, dog sportsman or as a specially trained helper - the Goldendoodle is a versatile and loving companion who enriches the lives of his people.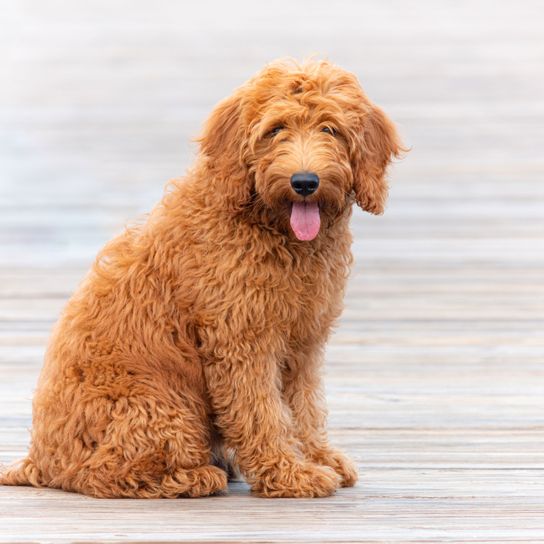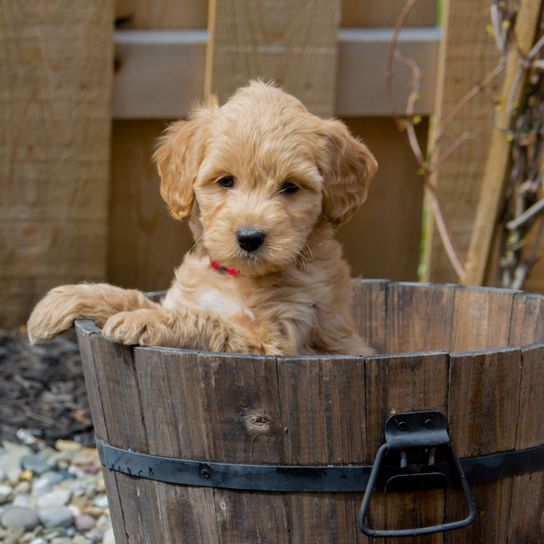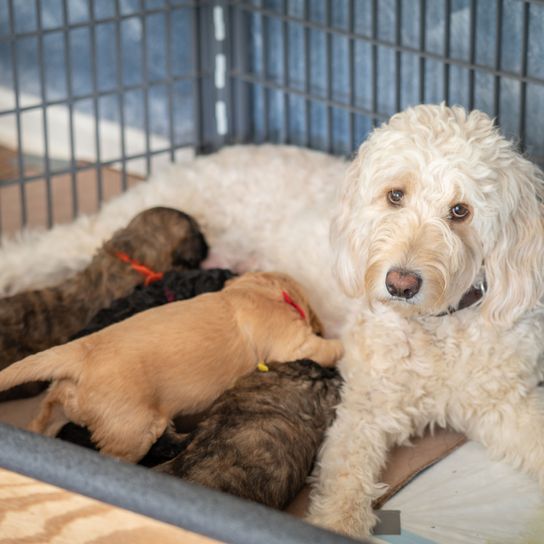 Typical diseases of the Goldendoodle
Although the Goldendoodle is considered a relatively healthy hybrid breed, some diseases can occur:
Progressive Retinal Atrophy
Ichthyosis
Kidney dysplasia
Chylothorax
Patellar luxations
Hip and elbow dysplasia
Epilepsy
Von Willerbrand disease
Care and health of the Goldendoodle
The Goldendoodle is hardy and long-lived and can reach an age of up to 15 years. He is also easy to care for. However, with a coat that more closely resembles the poodle, regular trimming is required. Dead hair and dirt should be removed every so often.
The same preventative measures apply to the Goldendoodle as to other dog breeds: Preventive health care, vaccinations and regular dental checks are important.
Diet of the Goldendoodle
Normal wet and dry food for medium-sized and active dogs is ideal for the Goldendoodle. Puppies, older or sick dogs have special nutritional and energy needs, so feeding should be adjusted accordingly.
Buying from the breeder
Goldendoodle puppies are usually available from breeders. However, they are not inexpensive dogs: for a healthy dog with a character that matches the breed, prices can be as high as 2000 Euros. For a standard color, prices usually start at about 1200 Euros.
Conclusion: Health and breeding of the Goldendoodle
The Goldendoodle is a comparatively healthy and easy to care for dog. Proper health care, regular grooming and a balanced diet will help it live a long, healthy life. When purchasing a Goldendoodle puppy, care should be taken to ensure that the breeder is reputable and pays attention to the health of the parent animals.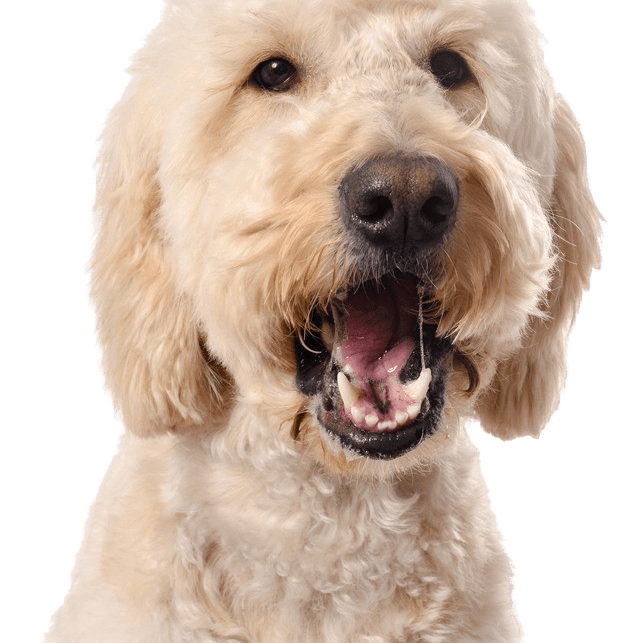 Appearance & Physique of the Goldendoodle
The exterior appearance of the Goldendoodle varies considerably depending on the proportion of the parents. In some types the retriever prevails more, others resemble more the poodles. The size ranges from 50 to 70 cm in height at withers with a weight of 20-40 kg. The color markings range from cream-yellow, to various shades of dark brown, to black or pied.
The more poodle-like Goldendoodle also hardly sheds and is considered allergy-friendly.
Classification of the Goldendoodle
The different types of the Goldendoodle are classified according to their cross generations:
F1: Crossbreed of two purebred specimens of the original breeds (Poodle x Golden Retriever).
F2: crossbreed of two Goldendoodles (F1 x F1)
F1b: Backcross from one Goldendoodle and one purebred Golden Retriever (F1 x Golden Retriever)
F2b: Crossbreeding of two Goldendoodles of different mongrel behavior (F1 x F1b)
F3: Crossbreed of different types of the respective generation (F2 x F2; F1b x F1b; F2b x F2b)
Conclusion: Appearance & conformation of the Goldendoodle
The Goldendoodle is a diverse and attractive hybrid dog whose appearance is highly dependent on the parents and the respective crossbreed generation. From coat color to body size, there are numerous variations that make this dog an interesting and individual companion. The division into different generations helps to better understand the exact composition and appearance of a Goldendoodle and, if necessary, to take it into account when choosing a puppy.
Colors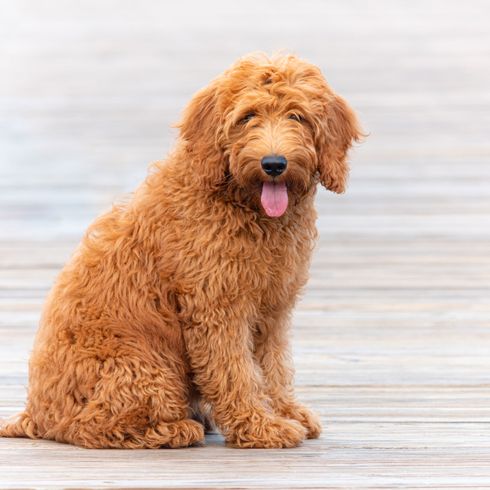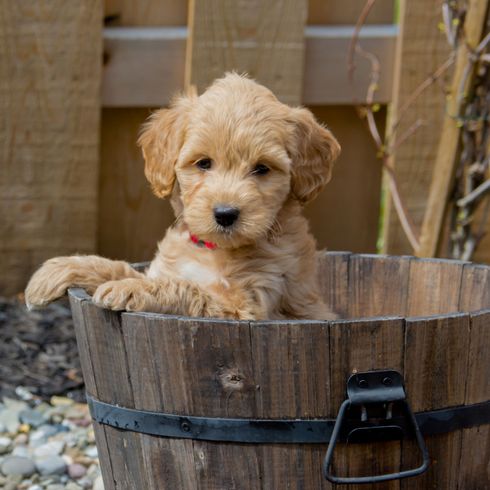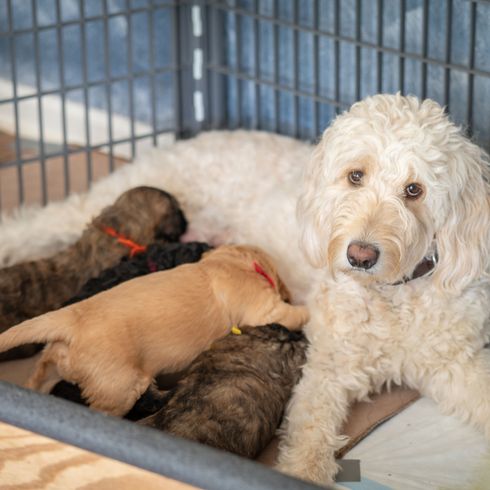 Known Diseases
Hip dysplasia (HD)

Hip dysplasia (HD) is a genetic condition in dogs where the hip joint is not shaped properly. This leads to pain, stiffness and restricted movement.

Elbow dysplasia (ED)

Elbow joint dysplasia is a chronic disease complex of the elbow joint of fast growing dog breeds.

Epilepsy

Definition: Dog has epilepsy if, for example, at least two epileptic seizures occur more than 24 hours apart.

Cataract

Cataracts are still one of the most common causes of blindness, even in dogs.

Progressive Retinal Atrophy (PRA)

Progressive retinal atrophy (PRA) is a slowly progressive death of the retina in dogs.

Patellar problems

Problems with the Patellar can be a displacement or weak kneecap, which is one of the most common causes of lameness in dogs, also because of overweight.

Eye diseases

Often occur with allergies and intolerances.
FAQ
The breed is not recognized, so the prices are very different and do not correspond to any guideline. Prices between 1000 to 3500 euros are possible.

Both breeds are hybrid breeds and mixed with a poodle. The Goldendoodle has some Golden Retriever and the Labradoodle has some Labrador Retriever. Both breeds are great family breeds. It is best to pay attention to the individual behavior of the animal.

On average, a Goldendoodle will live 10-15 years. The actual life expectancy of your Goldendoodle depends on health and diet as well as exercise and the gene pool.

Yes, the Goldendoodle is a great family dog.

A Goldendoodle needs an average amount of exercise for a dog. At least two hours a day of physical exercise in the form of running and walking should be scheduled. At home he needs additional mental exercise and if possible intelligence toys.

He is suitable from as a working dog for therapy but can also be used in rescue and police.

Especially suitable is high-quality food with a high meat content. The best is wet food or barf.

For example, we have RINTI as a recommendation (AMZ Link); this is available in size L (800g cans) and consists of over 65% goat meat. The food is grain-free, contains minerals and drinking water. The size of the can is sufficient for a Goldendoodle weighing about 18kg.

No, the Goldendoodle is not a recognized breed.

F1: Crossbreed of two purebred specimens of the original breeds (Poodle x Golden Retriever)
F2: Crossbreed from two Goldendoodles (F1 x F1)
F1b: Backcross from one Goldendoodle and one purebred Golden Retriever (F1 x Golden Retriever)
F2b: Crossbreeding of two Goldendoodles of different mongrel behavior (F1 x F1b)
F3: Cross of different types of the respective generation (F2 x F2; F1b x F1b; F2b x F2b)