Facts & Origin
What is the origin of the Miniature Poodle?
The poodle used to be a versatile working dog that was mainly used for hunting on water. As a hunting dog that learns quickly and with its retrieving ability, it was mainly used for hunting water fowl. They would either search for live ducks in the reeds and drive them out or retrieve animals from water that were killed by the hunters. This task also refers to the poodle's initial origin, namely its descent from the water dog. The name "poodle" is also a reference to the refreshing water: it is derived from the word "to puddle", which means "splashing in the water". The Miniature Poodle has its origins in France, but by the 18th century it was already a popular dog throughout all of Europe. After short-haired dogs had replaced the poodle as a hunting dog, the curly-haired water lover developed more and more into a social dog. The first breed standard for the poodle in general was written in 1889, and around 1900 targeted breeding began. Since the poodle developed more and more from a hunting dog to a companion dog in the course of the 20th century, the breeding of different sizes first began. The Miniature Poodle was recognised as an independent breed in 1936 and bred began accordingly.
What are the breed characteristics of the Miniature Poodle?
The Miniature Poodle is a dog breed recognised by the FCI. It belongs to the category of "small dog breeds" and is classified as a companion dog in group 9, specifically in section 2 (Poodle without working test, standard no. 172). The small four-legged friend is typically considered to be very intelligent, friendly and very loyal to their humans. They have an impressive learning and conditioning ability and make a proud and elegant impression. Poodles are generally of a well-proportioned build, the curly, frizzy coat is characteristic for their appearance.
A special breed characteristic is also that this friendly dog hardly sheds hair.
However, it is still not necessarily suitable for allergy sufferers, as these might still react to the dog's saliva or skin scales. So before you decide on buying a Miniature Poodle, it should be clarified whether all family members can tolerate the four-legged friend in regards to their health. It is advisable to clarify this question in advance; this is the only way to avoid disappointment for all people concerned.
Banner: Shutterstock / Lim Tiaw Leong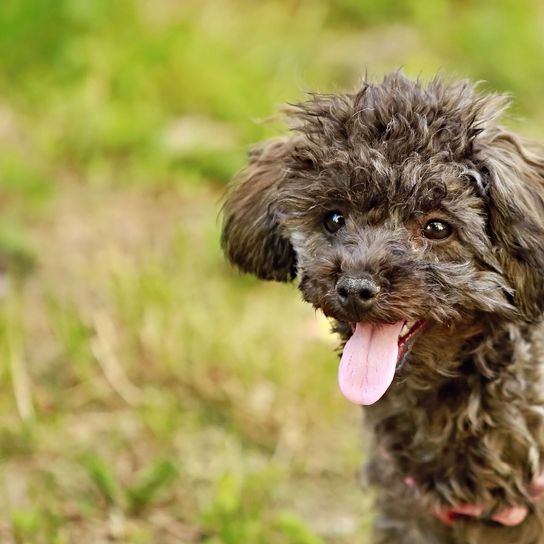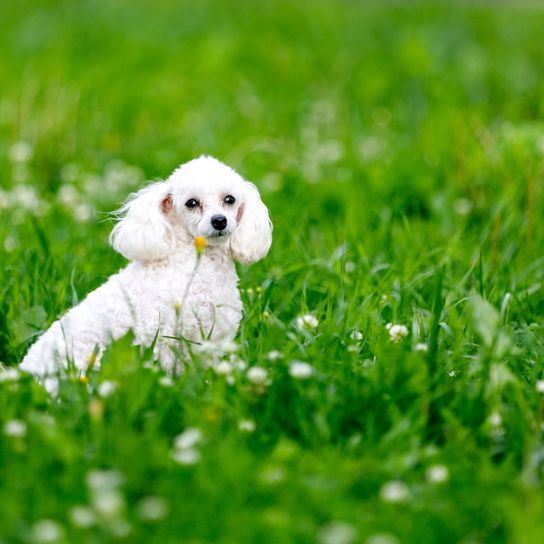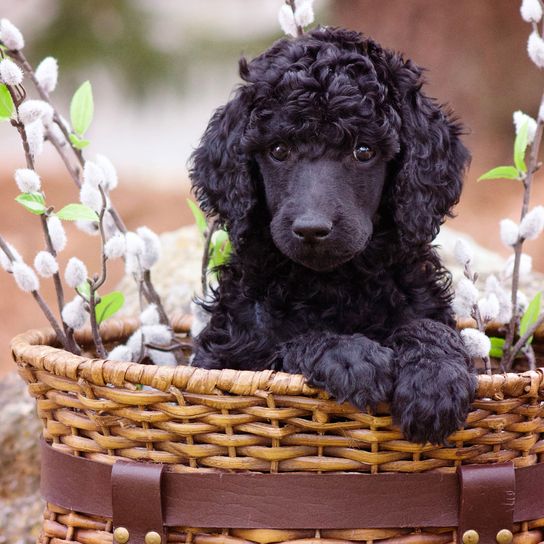 | | |
| --- | --- |
| Alternate Name | Toy or Miniature Poodle |
| Origin | Germany |
| Life expectancy | 14 - 17 years |
| Care requirements | low-maintenance |
| | |
| --- | --- |
| Activity level | average |
| FCI group | Poodle |
| AKC group | non-sporting group |
| KC group | utility group |
Attitude, character and temperament of the breed
What are typical characteristics of the Miniature Poodle?
The Miniature Poodle is a
friendly,
self-confident dog that gladly
accompanies their humans through thick and thin and always wants to be part of everything. They are very
affectionate as well as particularly
loyal.
This intelligent animal has a very highly developed
social competence, gets along very well with other dogs and is also
incredibly versatile.
This cheerful curly haired friend loves to
spend time in nature,
loves to move and
to go for long walks.
They are excellently suited for dog sports (agility), because here they are mentally stimulated as well as physically. Being challenged mentally is an absolute necessity in order for the clever dog to be satisfied and happy. Miniature Poodles are also trained and used as guide dogs due to their intelligence and social abilities. Even at puppy age the Miniature Poodle enjoys going to a dog school, where they are challenged from a very young age. The breed is considered to be a suitable dog for first-time owners, because it is very willing to learn as well as cooperative and therefore relatively easy to train. Miniature Poodles are ideal family dogs, they get along well with children and integrate into your everyday life without any problems.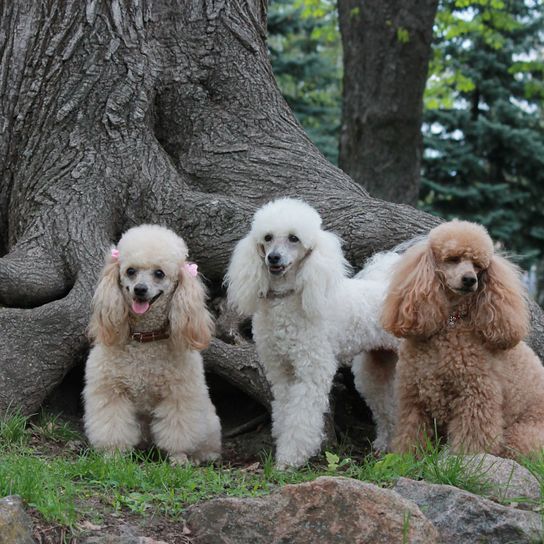 What are typical diseases of the Miniature Poodle?
The Miniature Poodle is a relatively robust dog. Nevertheless, there are the following diseases typical for the breed:
Cataract
Progressive Retinal Atrophy (PRA), a hereditary eye disease
Epilepsy
Patella luxation (slipping of the kneecap)
Ureteral ectopy
What should be considered in regards to Miniature Poodle breeding?
When breeding Miniature Poodle, the responsibility regarding the health of the animals should always be the main focus. If you buy a Miniature Poodle puppy from a breeder, the dog should already have been dewormed several times, vaccinated and chipped. Pedigree papers, a vaccination certificate and a health certificate should be provided. Serious breeders will let you visit their home and answer any question you might have about the animals. You should not only be able to see the puppies, but also the parent animals of the little four-legged friends should be on site.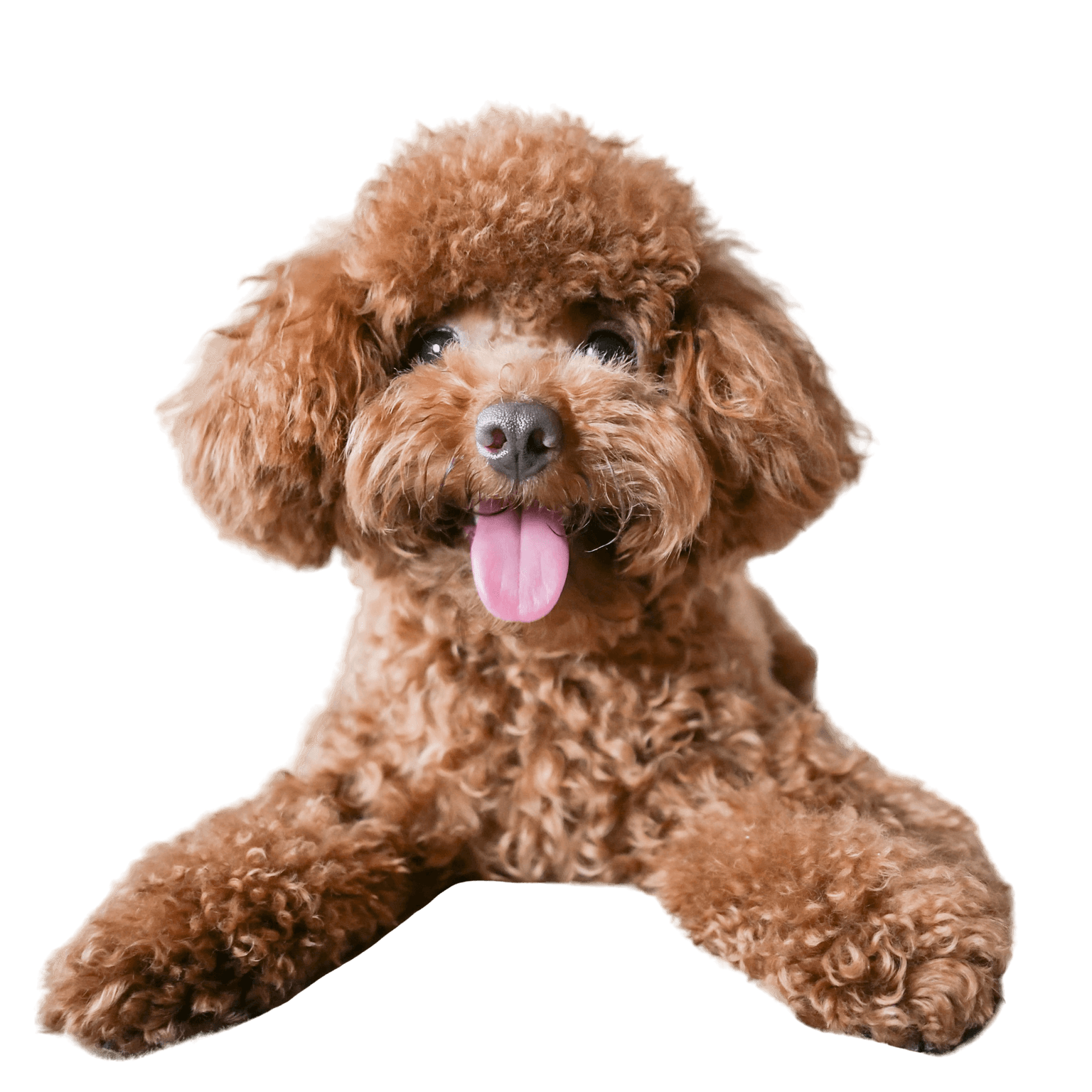 Appearance and coat of the Miniature Poodle
If you want to buy a Miniature Poodle, you will get a well-proportioned dog with characteristic frizzy fur, which can be curly or corded. This animal has a high set tail and a prancing, light-footed gait. The almond-shaped eyes are black or dark brown, the long ears hang down straight from the head. The coat is always kinky, a distinction is made between curly-haired poodles and corded poodles. Curly poodles have fine woolly fur, which is very thick as well as strongly crimped and evenly forms curls. Corded poodles also have a thick coat. This, however, characteristically forms strings, which must be at least 20 centimetres long. The coat may have the following colours according to the breed standard:
Black
White
Brown
Grey
Apricot
Fallow
Black and white
Brown-White
Other multi-coloured Miniature Poodles in different colour compositions are bred, but they do not meet the breed standard. The coat of the poodle grows continuously, therefore regular grooming and above all regular professional clipping is required.
What is the average size of a Miniature Poodle?
The Miniature Poodle grows to a withers height of  28-35 centimetres.
How much does a Miniature Poodle weigh?
The friendly four-legged friend weighs about six kilograms.
What is the average life span of a Miniature Poodle?
The Miniature Poodle has an average life expectancy of 14 to 17 years
Colors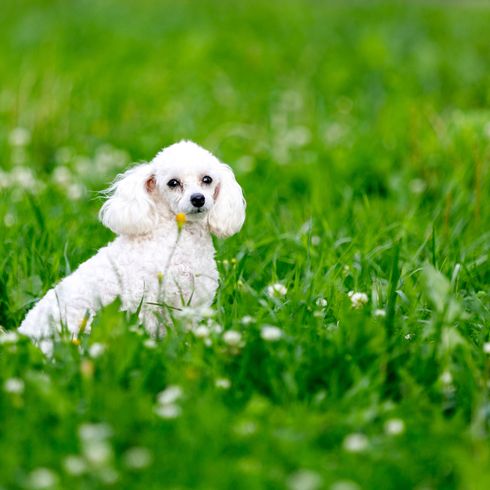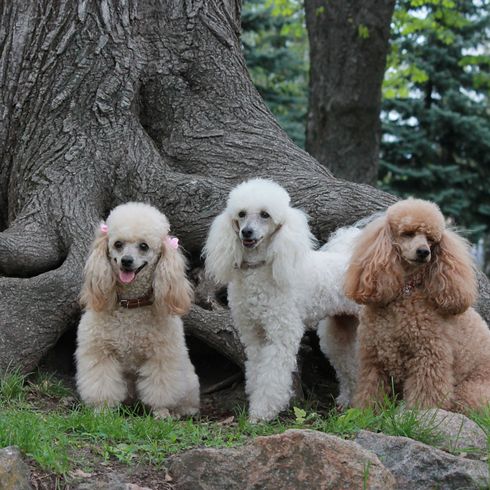 Known Diseases
Epilepsy

Definition: Dog has epilepsy if, for example, at least two epileptic seizures occur more than 24 hours apart.

Cataract

Cataracts are still one of the most common causes of blindness, even in dogs.

Progressive Retinal Atrophy (PRA)

Progressive retinal atrophy (PRA) is a slowly progressive death of the retina in dogs.

Eye diseases

Often occur with allergies and intolerances.

Patellar luxation

Patellar luxation is the term used to describe a displacement of the kneecap, which is one of the most common causes of lameness in dogs.

Ureteral ectopy

Ureteral ectopy (also known as ureteral ectopia) is an inherited condition where the ureter (known as the ureter) does not end in the bladder as usual due to a misalignment.
FAQ
A dwarf poodle costs up to 2500 Euro, depending on breeding and colouring.

Approximately 6 kilograms should weigh a dwarf poodle.

A miniature poodle is very active and needs average exercise. Under 2 hours, however, the dog is not kept species-appropriate. You should allow for a lot of mental exercise for this intelligent breed. Search games, dog sports, agility and subordination please the dog very much. Also intelligence toys or the use of a KONG can be helpful.

For this we have some cute pictures in our gallery. They do not have curls yet.